If you're searching for delicious food and stunning scenery, these cycle trails are the perfect way to make your way around Northern Ireland. Ready for a culinary adventure?
Towpath from Belfast to Lisburn, County Antrim – 11 miles linear route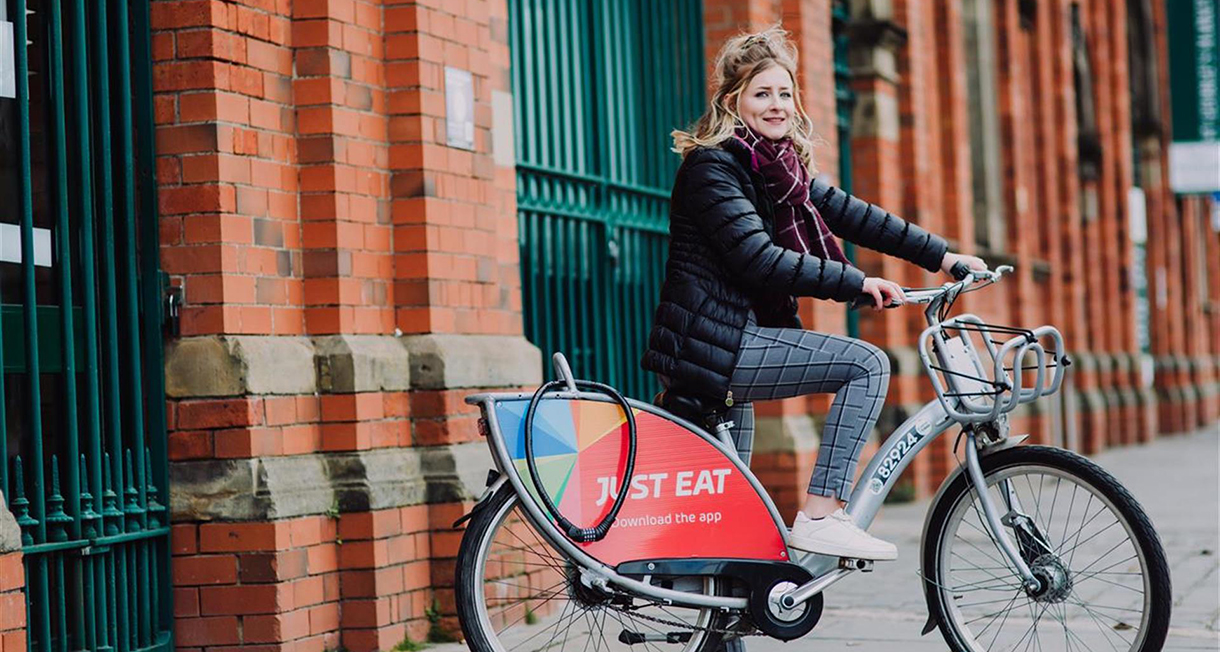 Get ready to set off into foodie heaven. Starting from Belfast city centre, you can grab a Belfast bike outside St George's Market, guided by the smells of fresh food on any weekend morning. A must-try here is the famous Belfast bap, or maybe something a little more adventurous from one of the many stalls selling fresh fruit and vegetables, fish, cheese and pastries.
As you continue up the river for about 2.5 miles, you can get your coffee fix at bike-friendly café 5A Lockview Road in Stranmillis or continue through Lagan Meadows and enjoy a teabreak at the Lock Keeper's Inn near Shaw's Bridge.
From here, it's about 6 miles of picturesque cycling along the River Lagan to the end of the towpath. Here, you can stop off and enjoy Hilden Brewery and Tap Room Restaurant, where you can be sure to find refreshing craft beer or a delicious meal.
Accommodation nearby: Radisson Blu Belfast Hotel
Faughan Valley Cycle Way, County Londonderry
Experience both the bustling culture of Derry and its beautiful rural surroundings. Starting in the city, this route follows a traffic-free National Cycle Network along the River Foyle. As you continue on quiet country roads, you'll pass the Shoal observation point before coming back into the city. Here, you can enjoy a pint in Peadar O'Donnell's Bar, famous for its live traditional music, or try a refreshing craft beer from the Walled City Brewery. This Brewhouse in Ebrington Square also has a restaurant serving delicious beer-braised pulled pork and potato boxty.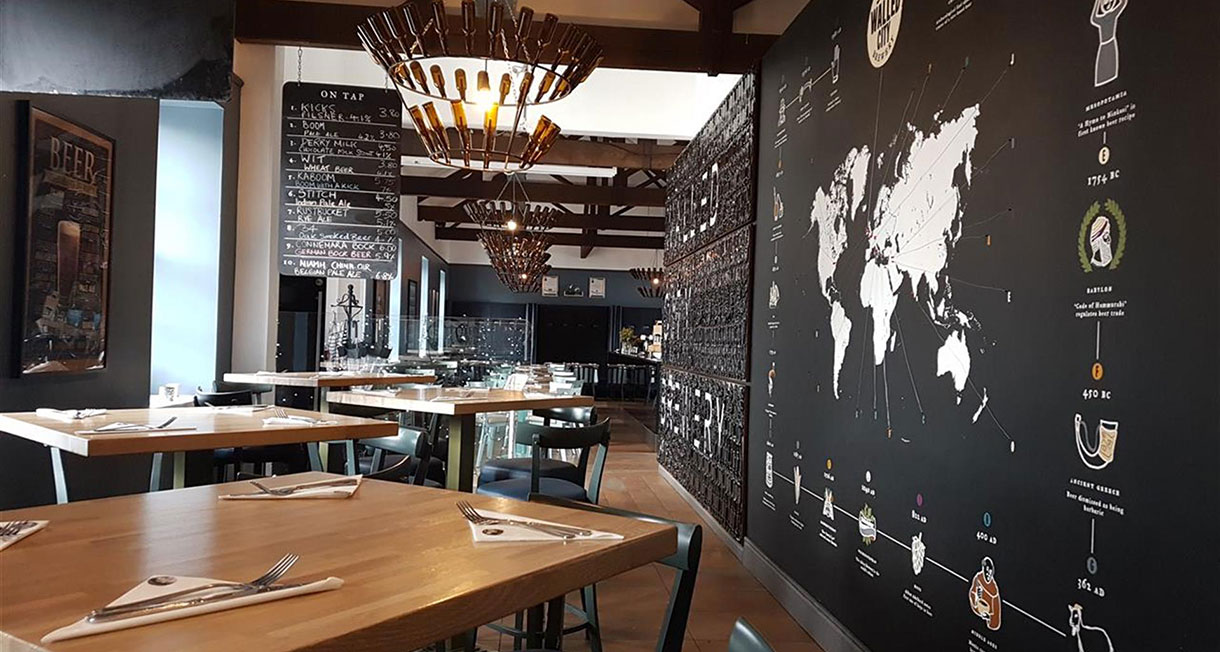 If you're looking for some fine dining, head to the banks of the River Foyle, where you'll find Browns Bond Hill. Sample the six-course tasting menu here, renowned for Head Chef Ian Orr's dedication to fresh seasonal produce sourced locally.
Accommodation nearby: Shipquay Hotel
Newcastle & Lough Island Reavy, County Down – 25 miles circular route
If you're on the fitter side and looking for a bit more of a challenge, this route is right for you. It's most certainly worth it though, because you'll get to enjoy the spectacular Mourne Mountain scenery.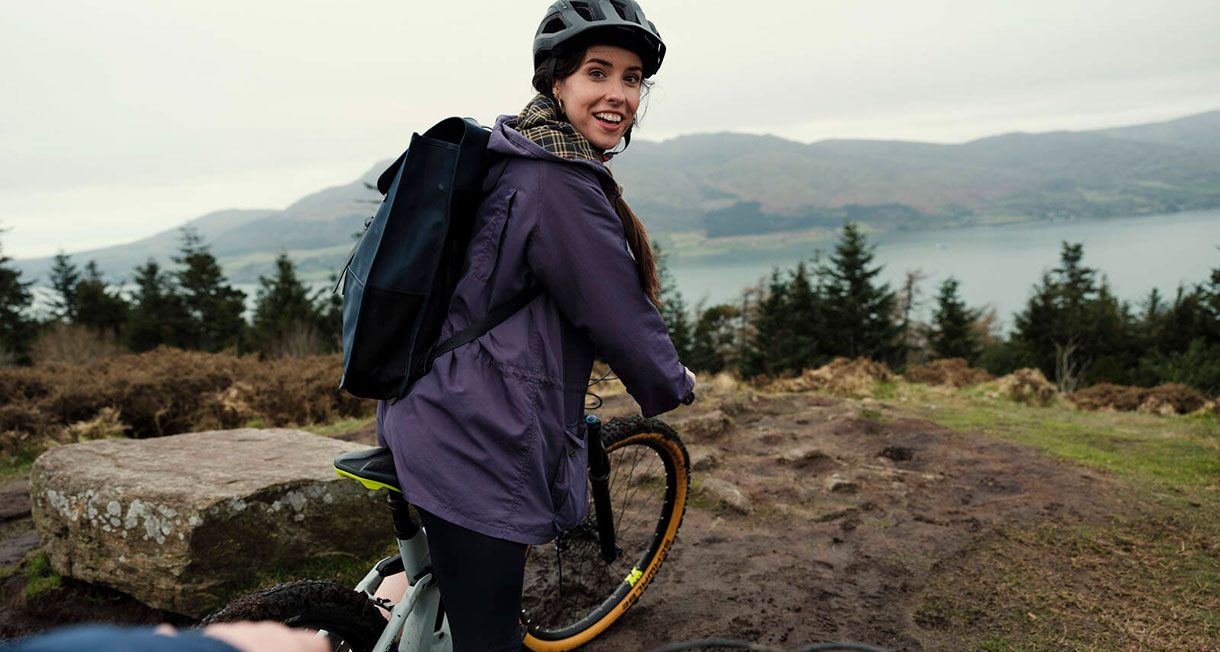 You'll begin in the pretty seaside town of Newcastle, where you can fuel up in Froth Coffee Co, and enjoy a delicious breakfast, to give you an all-important energy kick for the strenuous climbs ahead! The nearby Cookie Jar also serves some delicious wheaten bread.
Once you're on the road you'll pass by Tollymore Forest Park before cycling the Trassey Road, a main route through the high Mournes. Here, you can enjoy some picturesque views of Slieve Croob and Lough Island Reavy Resevoir. Passing Castlewellan Forest Park, the tough climb will all be worth it as you'll be able to soak of the beautiful views of the Mourne Mountains, Dundrum Bay and Newcastle.
When you arrive back in Newcastle, enjoy dinner in the Percy French. While you're there, be sure to try artisan beer from Mourne Mountains Brewery, produced using fresh water from the Spelga Dam. You'll definitely have earned it.
Accommodation nearby: Burrendale Hotel, Country Club and Spa
Whiterock and Mahee Island, County Down – 27 miles circular route
Fine views and tasty treats await! Setting out from Comber town centre, (accessible from Belfast via the Comber Greenway if you want to add some more mileage) you can visit Comber Market (first Thursday of every month) selling everything from fadge (another word for potato bread) to fudge. Or, why not enjoy a fresh scone from the Georgian House?
From here, head to Castle Espie Wetland Centre and onto Mahee Island, making sure to stop off at the stunning Nendrum Monastic site. After this, head to Whiterock, enjoying the beautiful views along the way.
Stop in to Daft Eddy's for a cuppa or some fresh fish. As you head back inland, you can enjoy the green fields as you pass the hamlet of Kilmood.
Finally, a quick detour means you can visit the thatched cottage Old Post Office Tearooms and The Poacher's Pocket, near Lisbane, before returning to the outward route, and back to Comber.
Ballycastle Loop, County Antrim – 35 miles circular route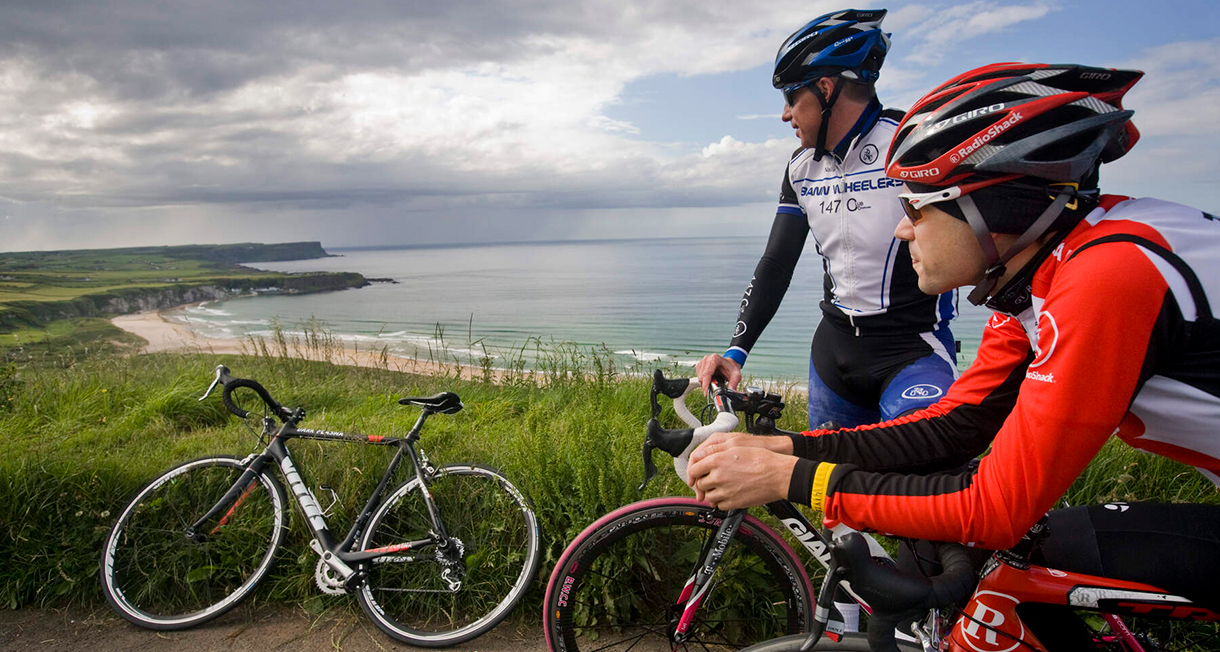 This route connects Ballycastle with the Giant's Causeway, along the beautiful Causeway Coastal Route.
Indulge in something hearty at Ursa Minor, independent Artisan Bakehouse in Ballycastle, where they use traditional techniques to hand-mould loaves or enjoy some North Coast Smokehouse fish at Thyme and Co Café. Beginning at the Marine Hotel, travel on the Causeway Coastal Route, passing by Kinbane Castle and continuing on to Carrick-a-Rede Rope Bridge and Ballintoy.
Beyond this, you'll cycle past Whitepark Bay, Portbradden and the ruins of Dunseverick Castle until you reach the Giant's Causeway. Before returning to Ballycastle, you can take a tour of the famous Old Bushmills Distillery and sample some whiskey.
Once you return to Ballycastle, you can enjoy some well-earned fish and chips from Mortons. Ballycastle Food Market also boasts some delicious artisan food. For a true taste of the area, make sure to visit Broughgammon Farm for a cookery and butchery course, and pick yourself up some souvenirs from their farm shop.
Accommodation nearby: Strand Cottage
And that brings us to the end of the road…
Whatever delicacies you're into, you can be sure to find something to enjoy in Northern Ireland, combined with stunning scenic cycle routes!
Know a place that absolutely has to be on this list? Share your favourite foodie cycle spots with us online using #DiscoverNI