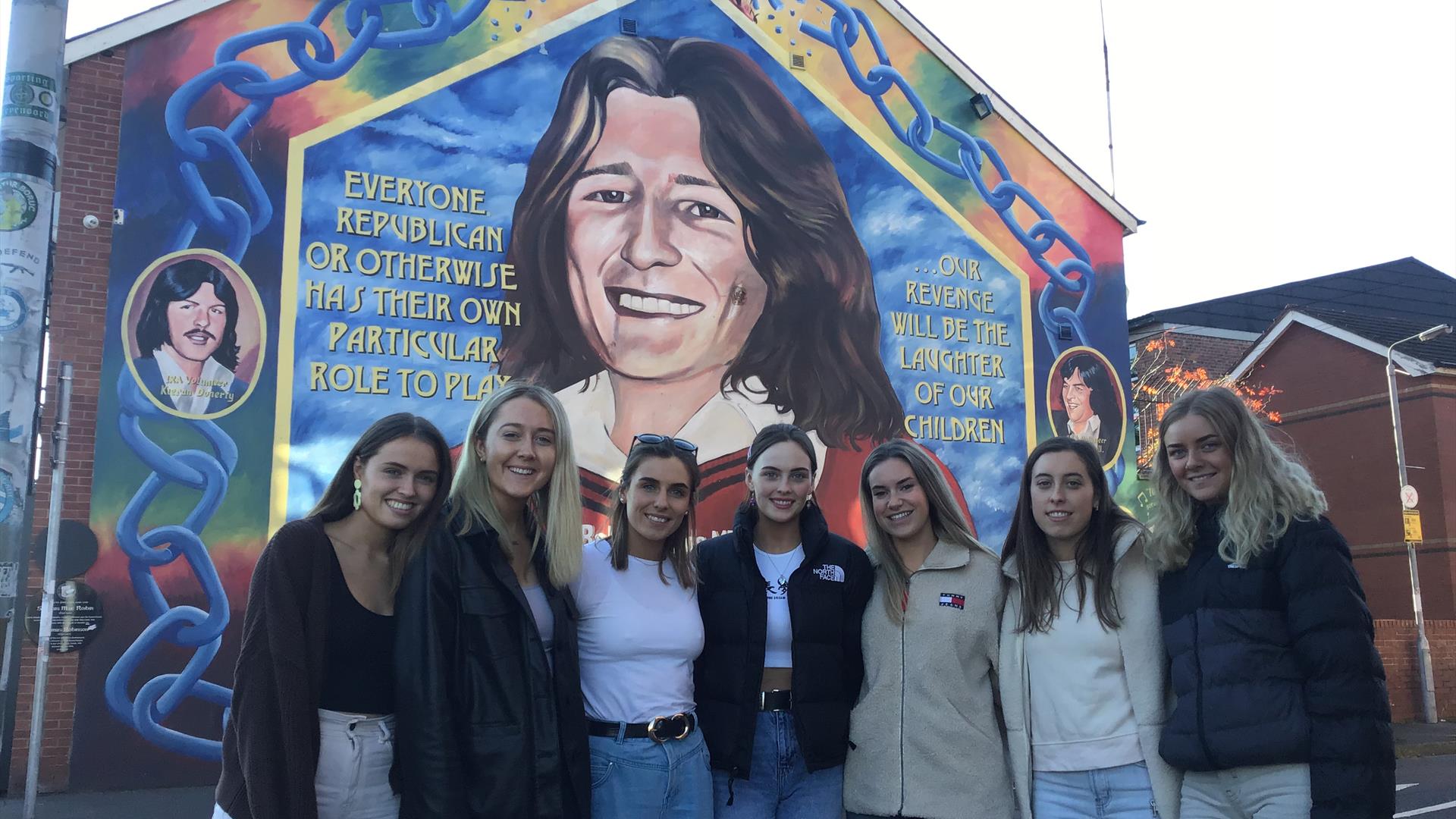 About
Choose from a range of our award-winning tours. We have been Awarded the Top 17 Tour In the World by TripAdvisor.Our black taxi cabs provide comfort while showing you the sights and our local guides will answer any questions you might have. We can pick you up from any location in Belfast, seven days a week, for an experience you won't forget.
Experience political, historic and culturally rich Belfast City and beyond like never-before, with our legendary award-winning, 5-star rated Belfast Mural Taxi Tours. All Mural Tours include a local tour guide providing political and historical background information and local knowledge about the murals and 'The Troubles' and conflict in Northern Ireland.
Experience historic and culturally rich Belfast and Crumlin Road Goal, with our legendary Belfast Mural and Crumlin Road Gaol Combo Tour. Crumlin Road Goal "colloquially known as the Crum", a former Prison situated in North Belfast and the only remaining Victorian era prison in Northern Ireland, and now a visitor attraction. Some of the prisoners included were De Valera and Ian Paisley; and these men spent time in this prison. There were 17 men who went to the execution chamber and were hanged and buried in the prison. You now have the opportunity to go on a guided tour of this prison, and it is now one of the main tourist attractions in Belfast.
Day Tours from Belfast to Giants Causeway - Discover the breath-taking beauty of the Northern Ireland Antrim Coast in a day with our Giants Causeway Tour from Belfast. Departing Belfast City at 09:00, passengers on this day tour travel in a luxury air conditioned vehicle to County Antrim. Visitors will discover and see first hand the natural wonders and stunning scenery that the Northern Irish Antrim Coast is world famous for.
Car and Driver Hire - Belfast Cab Tours Belfast is an award winning private transportation company based in Belfast, Northern Ireland with an extensive fleet of London style taxi cabs, executive cars and mvps all available for private hire with driver included. Private airport transfers are also from the following airports: Belfast International and George Best Ccity Airport, City of Derry, Dublin International and Shannon.
We are Trip Advisor Travelers' Choice Best of the Best 2022 Winners and Ranked the top 17 tour in the world and top 4 in the UK. Our company has over 1,666 five star reviews, which is all down to our black taxi cab drivers in Belfast and for the fantastic job that they do.
Book Tickets
Facilities
Event Facilities
Leisure Facilities