Nadia (@Nadia_dailyself) enjoyed a whistlestop trip to Belfast and County Down for a visit to the world's only official Game of Thrones® Studio Tour, a 'haffun' in Northern Ireland's smallest distillery as well as sharing some fantastic hospitality options with her followers. Her break, which she described as the 'loveliest of trips', was just a small step away since County Down is less than a two-hour drive from her home in South Dublin.
Along with her mountain boots, Nadia packed something a little more glamourous for her itinerary which took her up the Mourne Mountains and into the heart of Belfast's thriving night life.

Day One: Newcastle and Mournes
Nadia stayed in the beautiful Avoca Hotel in Newcastle, which is located on the town's Central Promenade and is a cosy hotel boasting rustic charm with excellent food and drink. Or if you are in the area and fancy an afternoon at the spa after a hike in the Mournes, opt for the Slieve Donard Resort and Spa to unwind. Nestled at the foot of the Mourne Mountains, this magnificent Victorian hotel, has golden strand of beach borders one side while the mighty Royal County Down golf course frames the other.
Nadia heartedly endorses the cocktails on offer in Avoca's Wild Hare Bar and a stop off in the Percy French where you can view one of the Game of Thrones® Doors.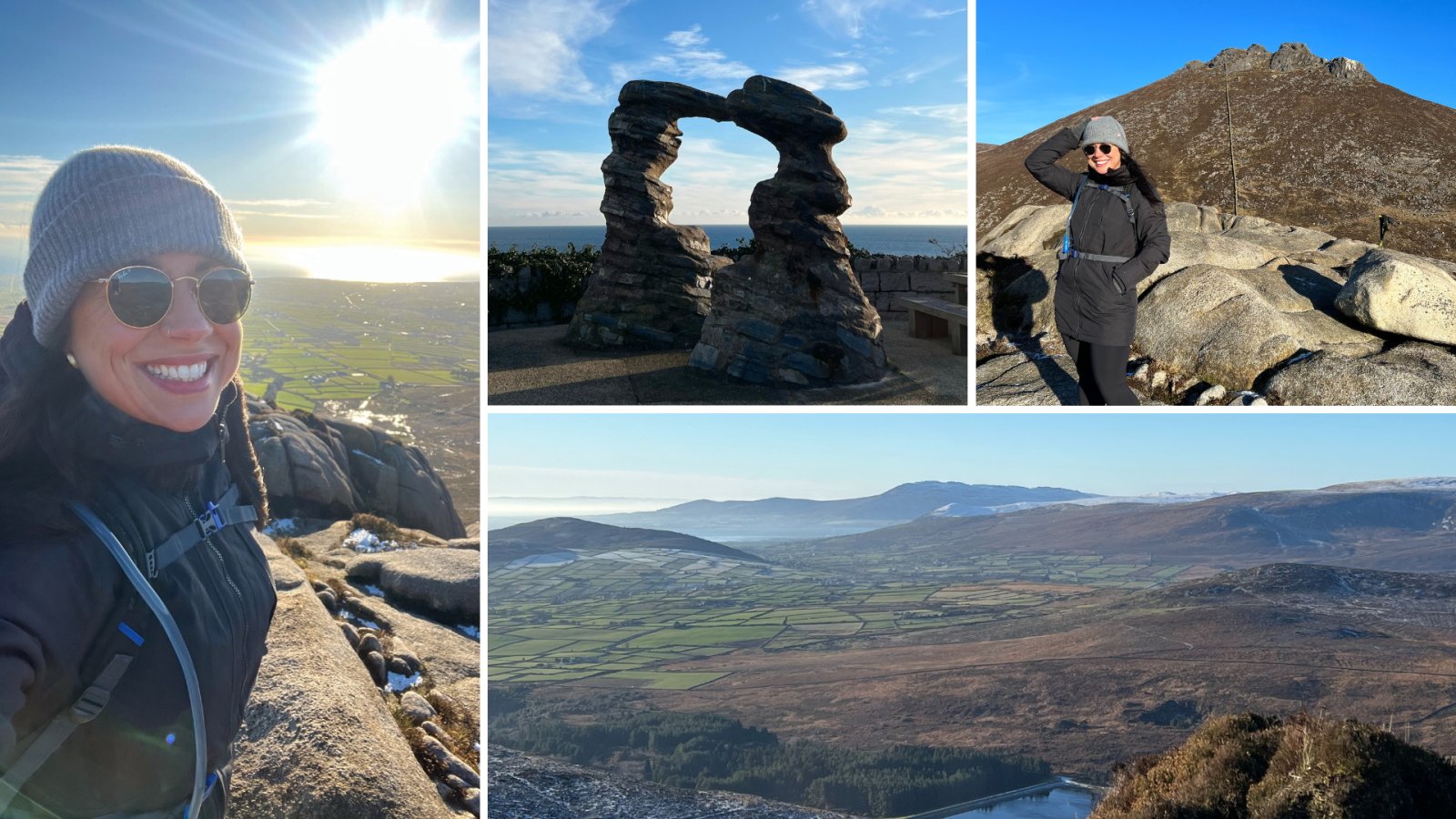 After checking in, Nadia pulled on her walking boots and met up with expert mountain leader, Peter Rafferty from Walk the Mournes for the 'Hike & Haffuns' experience. Nadia loves nothing more than to hike in the mountains and regularly hosts her own expeditions. An experienced mountaineer, she even climbed Mount Kilimanjaro in 2022, but still loves to return to the Mourne Mountains. "Every time I come back to visit Newcastle and the Mournes, I'm surprised that there's a new experience or view that I haven't seen or even more amazing food and drink to enjoy. There's always somewhere new to stay or an activity to try. The one thing I'm never surprised about though is just how warm the welcome always is."
"Peter is a wealth of information, from filming locations to geographical and historical knowledge of the mountains, I was even able to pick his brains about different hiking challenges in the Mournes and further afield."
Peter guided Nadia from Rostrevor, the land that inspired CS Lewis' fantasy land of Narnia, to Killowen Distillery. Along the way they visited Game of Thrones® filming locations and enjoyed a packed lunch, while drinking in the magnificent views across Carlingford Lough.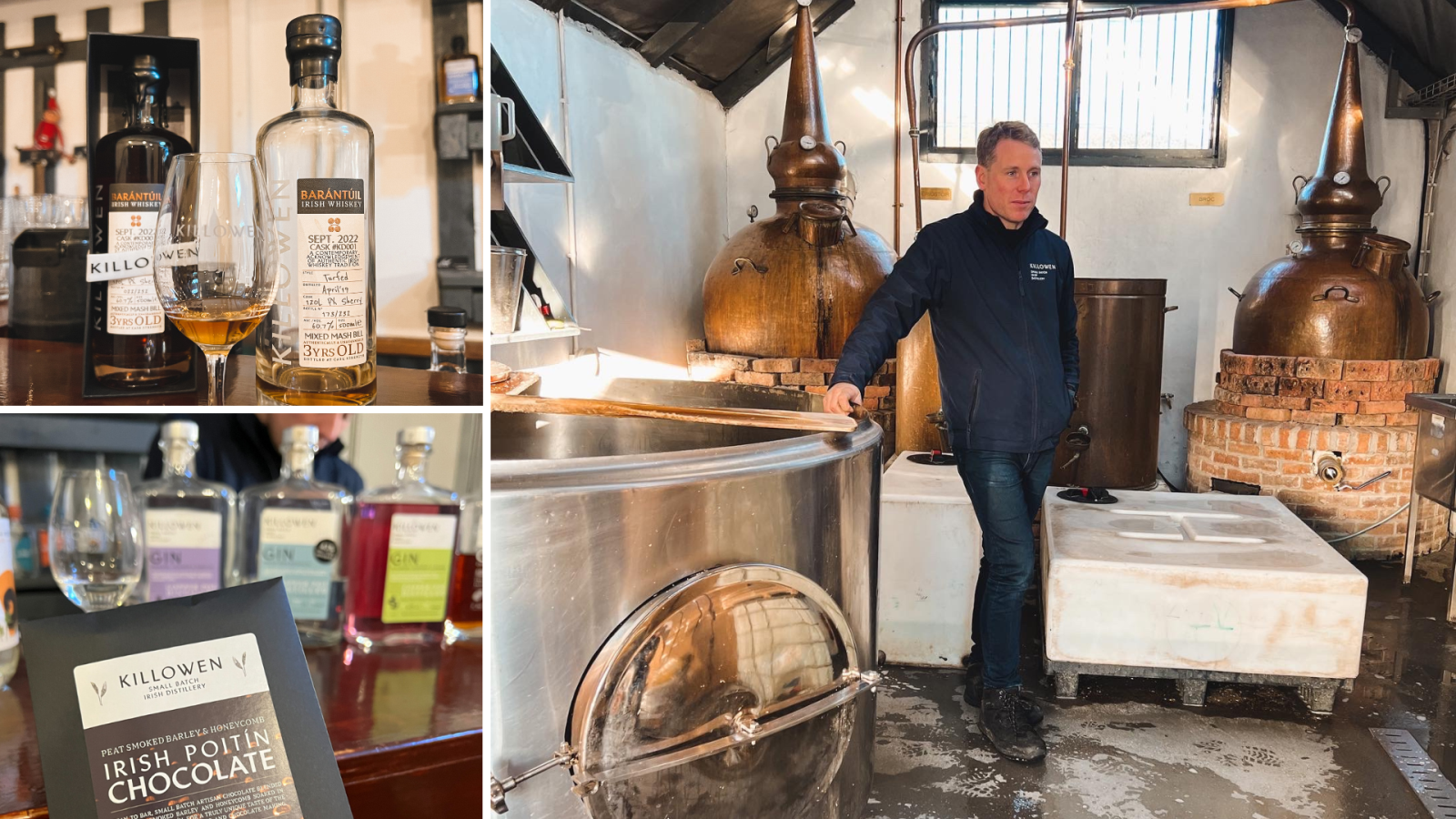 Killowen's Master Distiller, Brendan Carty, demonstrated to Nadia how small batch top-quality whiskey, gin and poitín are created. She also had the opportunity to try some samples including the poitín, which was mixed with Killowen coffee.
Brendan loves to welcome guests to his distillery, which is located in a picturesque setting along an old brandy smuggling trail and nestled between the Mourne Mountains and Carlingford Lough. "Brendan has a way of talking about Irish spirits that will interest everyone, from the most devoted whiskey nerds to total newbies. I've completely changed my opinion on Poitín since the Killowen tasting and have been keeping an eye out for it on cocktail menus since."
Next on Nadia's agenda was a trip to NearyNógs, Northern Ireland's first bean to bar craft chocolate makers and the oldest in Ireland – it is a must visit for anyone with a sweet tooth. NearyNógs chocolate is small batch crafted on the Mourne Coast. The family friendly chocolate factory has breathtaking views of the Irish Sea, Carlingford Lough and the Mourne Mountains. Nadia learned how every process in the chocolate-making journey is meticulously controlled so that the cacao bean's fine flavour shines through. "This was such an interesting experience, I had no idea how many steps were involved and the difference between bean-to-bar and the standard chocolate you buy in any shop. I made sure to take a few tasty souvenirs home!"
Day Two: Banbridge and Belfast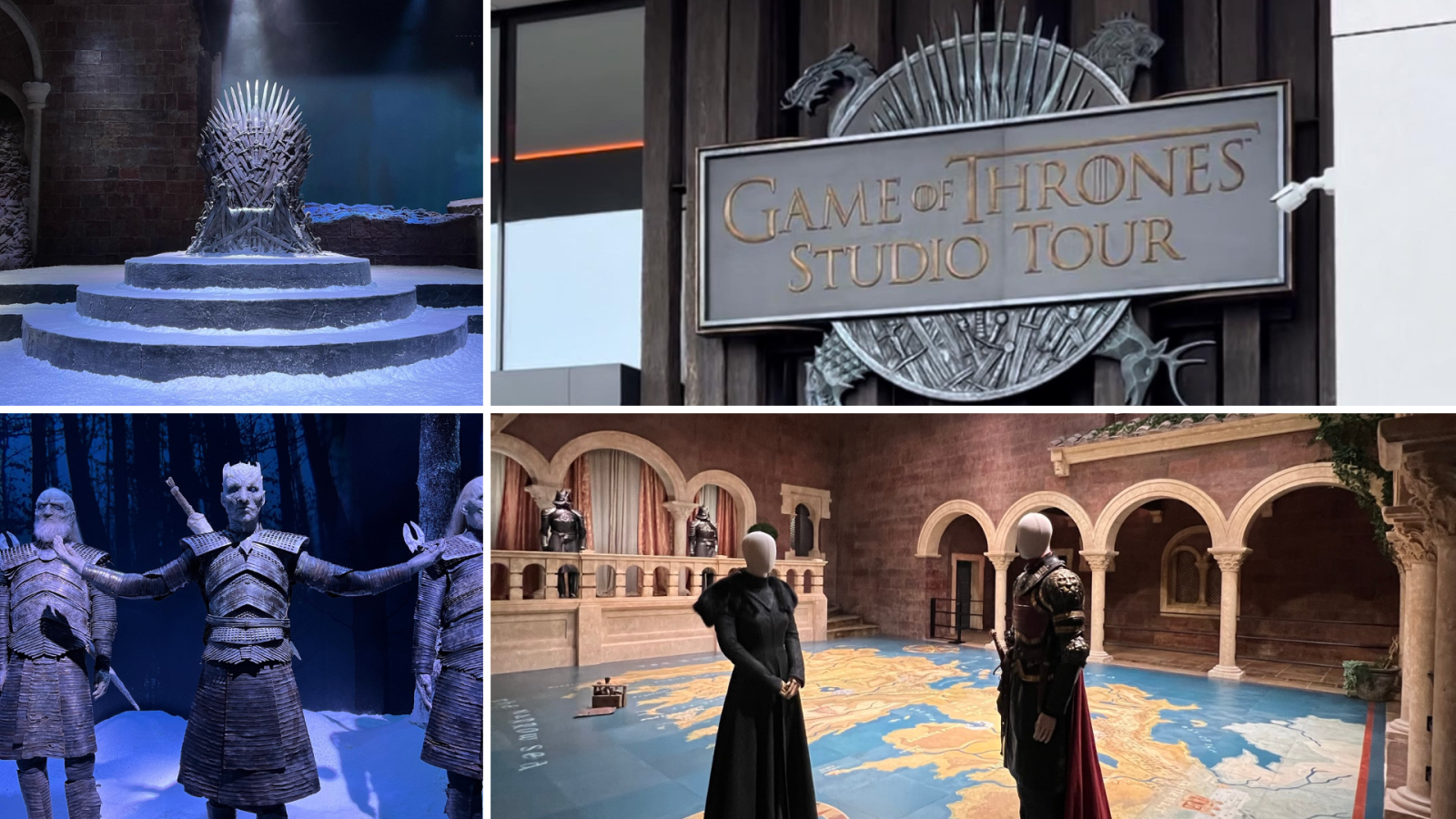 Day two took Nadia to Banbridge where she parked at The Boulevard, an outlet shopping destination which also doubles as the meeting point for coach transfers to the Game of Thrones® Studio Tour at the Linen Mill Studios. This is the perfect location to combine your studio visit with some time shopping at the popular outlet and pick up a bargain from big-name brands.
As you'll learn on the studio tour, over ten years, HBO and Game of Thrones® made Northern Ireland their home and when you travel across Northern Ireland you'll see exactly why it was chosen, whilst bringing you as close as possible to the spirit and the action from the legendary series. Nadia loved journeying behind-the-scenes and immersing herself in the world of Westeros at the official studio tour which was created in partnership with Warner Bros and delivers an unforgettable immersive experience for fans.
After leaving 'Westeros', Nadia set off for Belfast, just a 35 minute drive from Banbridge, where she checked in to the fabulous Grand Central Hotel and enjoyed the comforts of a Deluxe King Room with some of the best views in Belfast city. The rooms, which include a 50-inch smart TV, are furnished with super king size beds, well-appointed bathrooms with bathtubs, bathrobes, slippers and luxurious ESPA products. After settling in, Nadia headed to The Observatory bar, which commands some of the most spectacular views across the Belfast skyline and serves the most delicious cocktails. "The Observatory is extra special after dark, trying one of the signature locally inspired cocktails such as the 'Samson & Goliath' or 'Titanic Quarter' while enjoying the twinkling lights of Belfast and gentle live piano is unforgettable."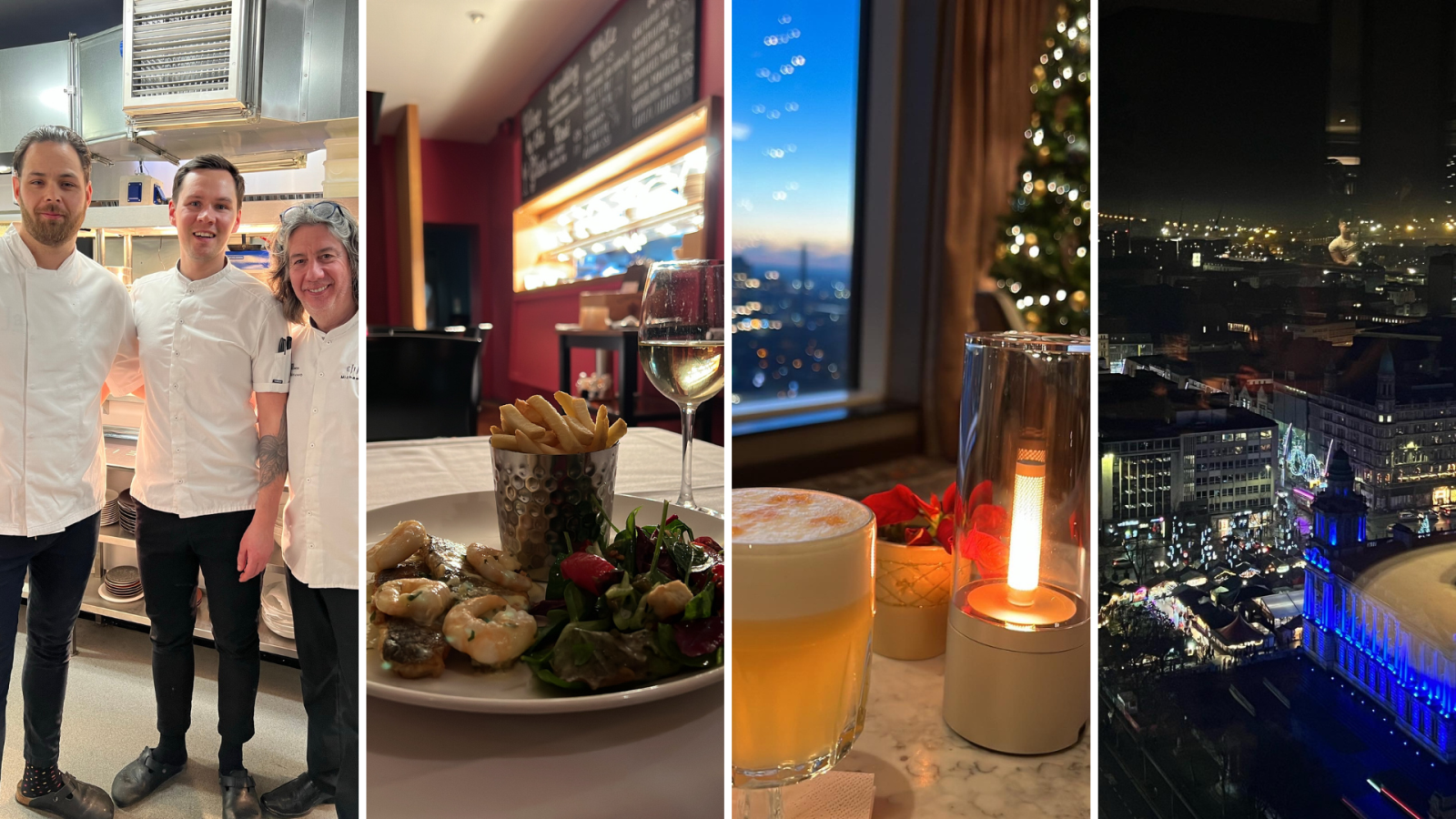 Following cocktails, Nadia enjoyed a meal at one of Michael Deane's celebrated restaurants, Meat Locker. The restaurant, located centrally on Howard Street, has a well-earned reputation for using excellent local ingredients cooked on its Asador Grill to provide perfect dishes.
In warm and glamourous surroundings, you can order from a wide selection of choices including steaks, poultry, fish and vegan options. "The steak here is excellent, but the fish special caught my eye. The quality of ingredients speak for themselves, and a special shout out to the entire kitchen crew. Amazing meal with really great service and a thoughtful wine list too."

Nadia checked out on Sunday morning, but before heading back to Dublin she completed the Glass of Thrones Trail in Belfast. To celebrate 10 years of filming in Belfast, Tourism Ireland created six huge stained-glass windows, each depicting the show's most famous families, characters and scenes. A window was unveiled after each episode of the final season, with each window representing a different theme: from House Stark, House Lannister, House Baratheon and House Targaryen to the White Walkers and the Iron Throne. The six windows form a trail along the Maritime Mile, starting at the AC Hotel by Marriott and ending at HMS Caroline, passing Titanic Studios which for 10 years was home to iconic sets such as the Great Hall of the Red Keep with the real Iron Throne.

Don't miss
It was impossible for Nadia to squeeze in all of her favourite places to grab a drink during her weekend break in Belfast, but here are some suggestions from Nadia...
For a pint
Some of Nadia's favourite bars include Kelly's Cellars, Henry's Bar, the Jail House, The Crown Bar, The Thirsty Goat, The National, The Duke of York and The Spaniard. For a craft beer try The Reporter Bar.
For cocktails
Stand-out places for a cocktail include Angel and Two Bibles, Muriel's and The River Rooms.