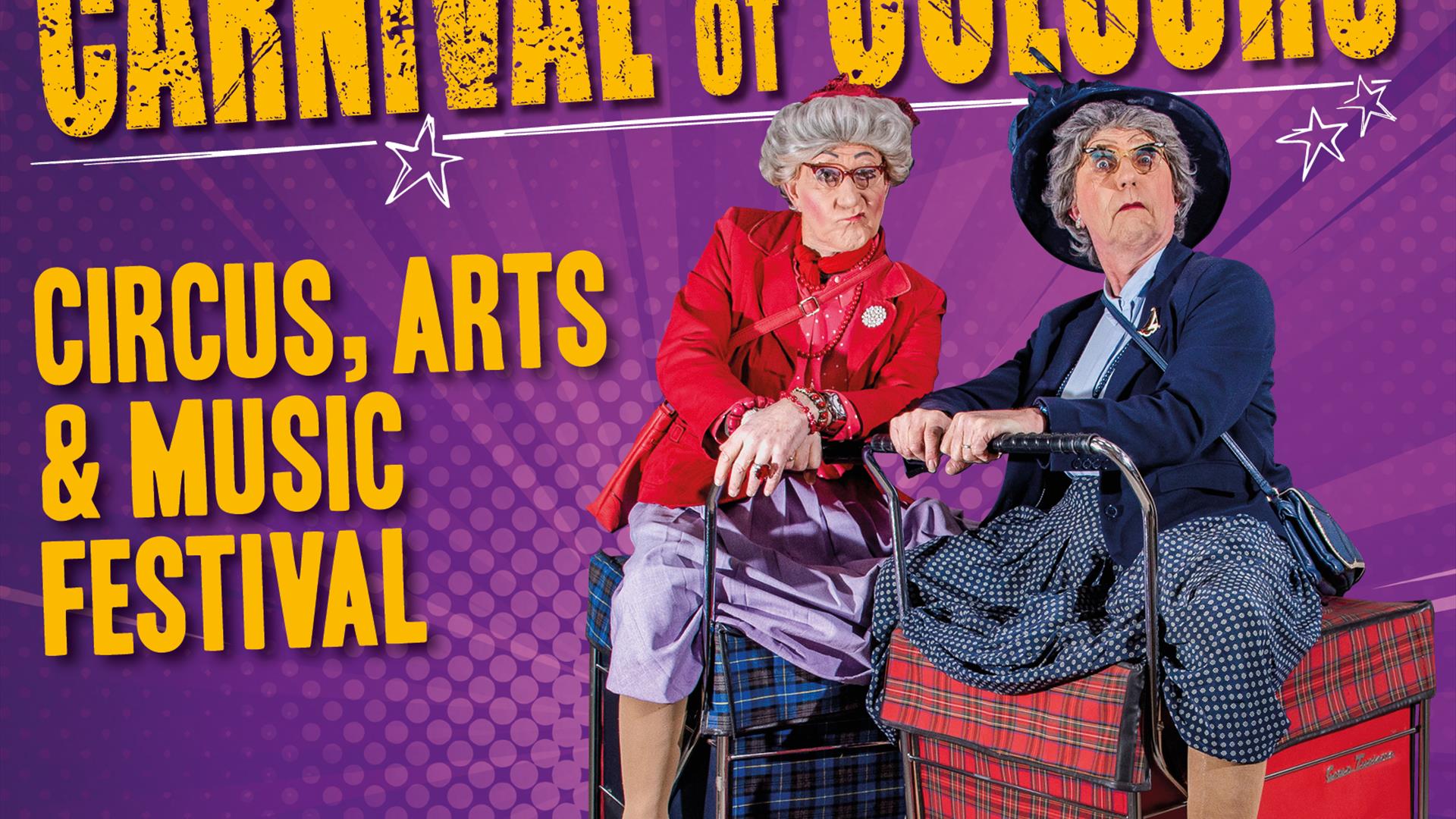 About
Welcome back to Carnival of Colours 2022! Brought to you by In Your Space Circus
Last year Carnival of Colours packed up all its circus-y madness and moved from the Park into Derry City Centre and guess what…
We absolutely LOVED it!
So... we're taking over the city streets again this August with a whole host of circus, music & artsy madness! We have programmed some astounding acts and artists for a weekend street party, the likes of which you've never seen before… (no bother to us!)
We're bringing what we loved about the park (festy vibes, bunting, tents, grassy spaces) and merging it with the super cool urban vibes, to get the best ever Carnival of Colours! And what incredible acts do we have for you this year (we hear you ask..)??
Well, hold onto your hats because we're about to blow your mind.
Our Circus and Street Theatre acts include the inimitable Granny Turismo with their banging tunes and super cool dance moves to get the party started… Cikada Circus with their superhuman acrobatic skills! The man, the myth, the leg END Frankie Magilligan with his skills to pay the bills… And the last of our headliner shows is the amazing TeaTime Company with their contemporary circus show: Stick-Stok. We are super buzzing to bring this piece to Derry!
And as if that wasn't enough, our own incredible local artists will host the 'In Your Space Circus Presents' Stage in The Peace Garden! This stage will be filled with performances from the IYSC acts you know & love (and some brand new faces you've never seen before)! Our talented artists will also bring a healthy dose of skill, chaos and craic to the city centre with performances popping up all over the place!
At this point, you're probably thinking - I miss the park and its grassy wee ways… I miss the tents and getting mucked up to my eyeballs… well don't worry, we have thought of everything…
If you want a wee blast from the past take a wander over to the Peace Garden and check out our PARK VIBES! Step into the mini-festival, within a festival (we are so meta) and take a load off! You can try your hand at some artistic adventures with workshops and demos in Graffiti and Circus, and you can add to our installation Sign of the Times by creating your own message of hope for the future!
And last, but absolutely not least, our friends (and rock & roll legends) at The Nerve Centre will have banging tunes on tap at the Quare Stretch Stage (behind The Guildhall) with the very best in local musicians and bands programmed all throughout the day!! Pull up a deck chair, have a wee chill and listen to some absolute bangers!
Oh, and one more thing… we have decided for 2022 to add a special wee treat for all you adults out there! On Saturday 6th August, we will host an incredible evening event in The Nerve Centre - The Curious Cabaret. Expect comedy, music and circus wows (along with a few cheeky wee beers at The Nerve's bar if you're that way inclined).
So, what are you waiting for?? Grab your diary and mark the dates, get your wellies and sequins ready…Oh, and don't forget a crisp wee tenner to stick in our buckets (wink, wink!) and we'll see you at the 15th annual Carnival of Colours! Alexa.. Play - Get the party started.
P.S. Please share your Carnival pics, selfies, Tik Tok dances, etc with us on the interweb! We pure love the craic.
Facebook: @carnivalofcoloursfest
Instagram: @inyourspacecircus
Twitter: @ColoursCarnival
#carnivalofcolours
Book Tickets
Facilities
Accessibility
All areas accessible to disabled visitors
COVID-19 Response
COVID-19 measures in place
Parking & Transport