From the very formal to the slightly retro, the quirky to the cool, there are as many ways to enjoy afternoon tea here in Northern Ireland as there are people enjoying it. Here are some of the best spots to book in for a memorable occasion.
The Merchant Hotel, Belfast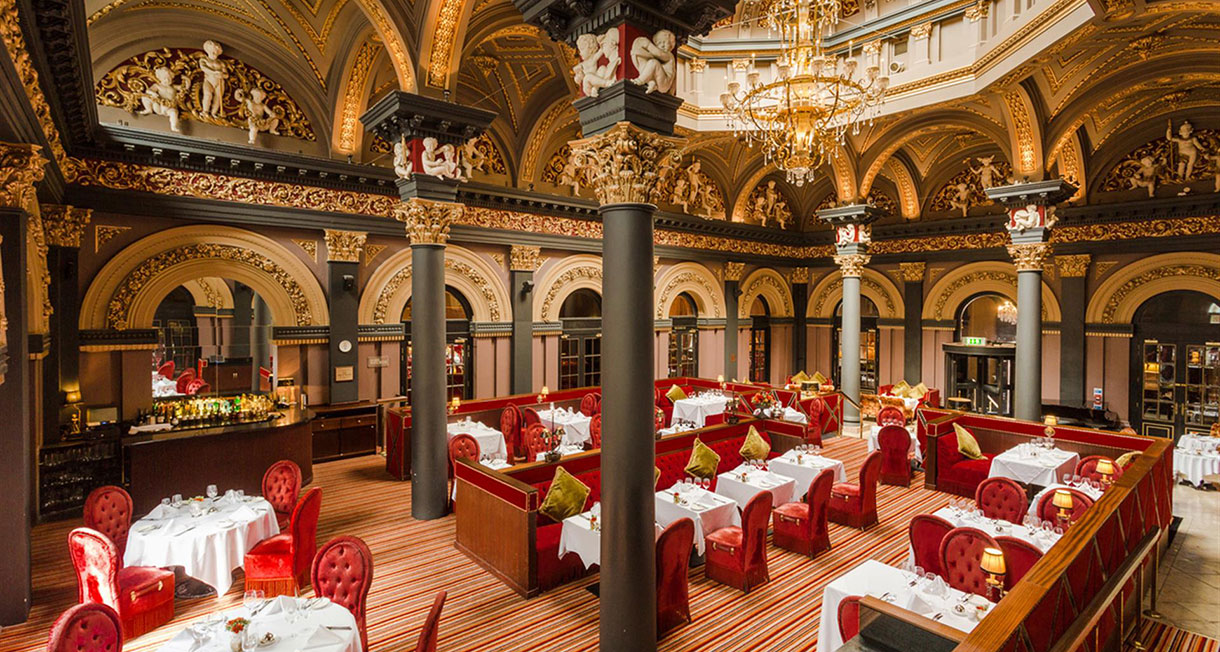 As you'd expect of the Belfast's Merchant Hotel (5*), Afternoon Tea here is an event. Finger sandwiches, delicate pastries and scones with clotted cream are served in the sumptuous surroundings of The Great Room Restaurant. A truly elegant and, of course, delicious experience it's only matched by their very own Cocktail Afternoon Tea – complete with a seasonal cocktail expertly crafted by Merchant Hotel bar staff. Served Sunday to Friday from 12-4pm, with two Saturday sittings, it's an experience not to be missed.
Galgorm Resort & Spa, County Antrim
Set in 163 acres of lush parkland and with the spectacular River Maine flowing through it, it's hard to beat the Galgorm (4*) as a location.
Though, happily, the Gold Edit Afternoon Tea here is just as stunning as the setting. Miniature savouries such as Brie, onion chutney bruschetta or a demitasse of soup, buttermilk or cherry scones and salted caramel macaroons or a passionfruit pastille are just some of the delights that might feature on your menu.
Perfectly finger-sized and perfectly delicious, it's served daily in the exquisite River Room Conservatory. (And, of course, the award-winning Spa is always worth a visit if you feel like making a day of it.)
Lough Erne Resort, County Fermanagh
It can be difficult to drag yourself away from the stupendous views over Castle Hume Lough for long enough to focus on your Afternoon Tea. Though, of course it's well worth the effort.
Served on the world-famous and local Belleek Pottery China, while you relax on super-comfortable sofas, the enticing selection of finger sandwiches, patisseries and freshly baked scones make Afternoon Tea at Lough Erne Resort (5*) a truly indulgent experience. And that's before you get to the tea itself. Afternoon Gold, Earl Grey, Darjeeling, Jasmine, Rooibos, Vanilla, Mint, Camomile, Red Berries, Sports Cup, Irish Whiskey Cream, Morgenthau and Classic Chai are just some of the teas on offer here. Served daily, 2-4pm.
Ballydougan Restaurant & Coffee Lounge, County Armagh
For something a little different, pay a visit to Ballydougan Restaurant & Coffee Lounge in their wonderfully restored Linen Barn. There's no better place to relax and enjoy scones and sweet treats, all freshly prepared in the kitchens using the finest local produce. They even make the plates here too. Don't forget to stop by the delightful gift shop on the way out.
Everglades Hotel, County Londonderry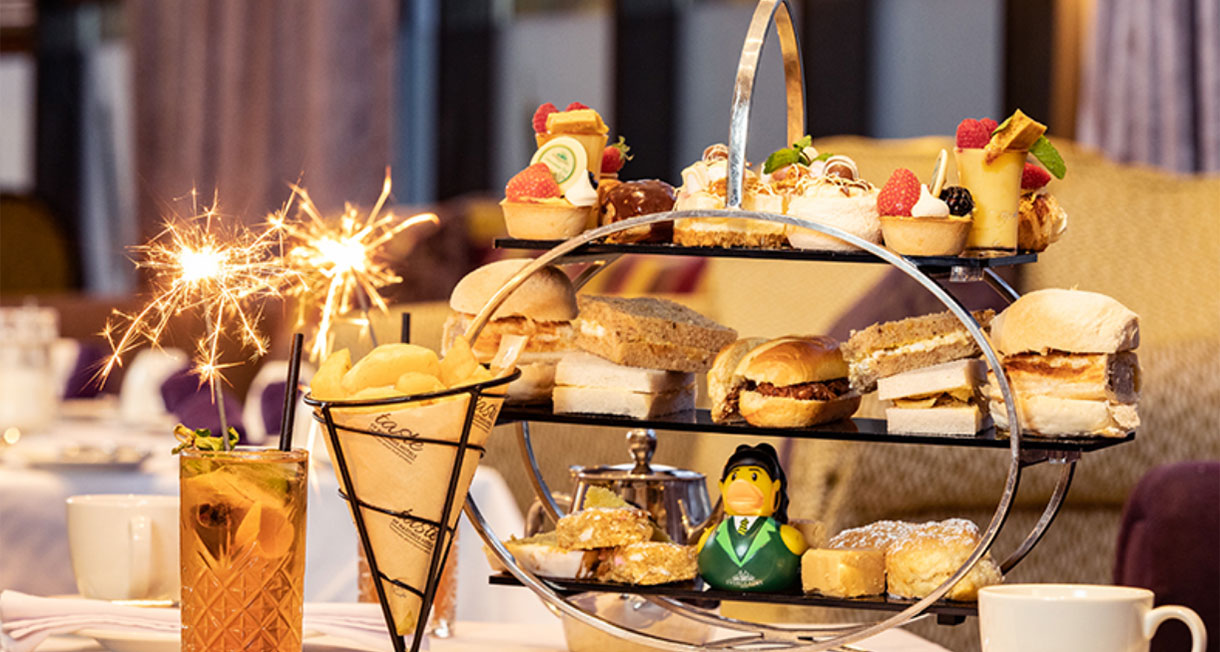 The Hastings Everglades Hotel (4*) is the perfect spot for an afternoon tea when you're in County Londonderry. There's a vast range of aromatic brews and plates of dainty sandwiches, fluffy scones, cakes, pastries and, as they promise here, copious amounts of tea or coffee. Or you can treat yourselves to a sparkling Prosecco afternoon tea. Served daily, 12.30-4.30pm.
By the way, they also serve a Derry Girls Afternoon Tea, featuring a cream horn, a cone of chips and the famous Derry sausage roll bap. But that's a whole other story.
The Old Inn, County Down
As a former coaching inn, they've a long history of refreshing weary travellers here. So it's no wonder The Old Inn, Crawfordsburn (4*) is the ideal hideaway for a quiet and relaxing afternoon tea.
Sink happily into a comfortable chair and enjoy a Victorian-style tea, complete with specialty teas, homemade bakes and little sandwiches. Or spoil yourself and add a glass of sparkling wine or champagne. Served daily, between midday and 5pm.
Titanic Belfast
Step back in time to a period of luxury, elegance and 5-star service with Sunday Afternoon Tea at Titanic Belfast. It's served – on White Star Line china - in the opulent surroundings of the Titanic Suite, beside a stunning replica of the iconic RMS Titanic staircase. You can also, of course, enjoy live jazz while you sip your tea. Or indeed your glass of Prosecco or Champagne.
Finger sandwiches, classic scones with fresh cream, mouth-watering sweet treats and tasty savoury bites feature here. And children, from 2-11, can choose from a special children's Afternoon Tea menu. Tea is served on Sundays, with sittings between 12:30 and 2:30pm. During December, a special Festive Afternoon Tea replaces the year-round version, with tickets bookable on their website.
Corick House Hotel and Spa, County Tyrone

In the heart of the Clogher Valley, the idyllic Corick House Hotel and Spa (4*) does history with a decidedly modern flourish, offering a haven of tranquillity and a very relaxing afternoon tea experience.
Gourmet sandwiches, breads, scones, seasonal berry preserve and Irish clotted cream await you here, along with an assortment of home-baked cakes and pastries – and specialty teas, coffee or a glass of Prosecco. Served Monday to Saturday, 12-3pm.
Maryville Tea Room, Belfast
Maryville House, a fine example of a Victorian gentleman's residence, sits on the cosmopolitan Lisburn Road in Belfast and is home to a classically styled tea room.
Beautifully renovated, it was opened in 2010 as a boutique bed and breakfast. Now famed for its afternoon tea, you can tuck in to wonderful sandwiches, homemade scones and sweet treats all served with freshly prepared barista coffees and premium loose teas in stylish fine china. The Tea Room is open Monday to Saturday, 8.30am-5pm and Sundays 10am-4pm.
The Grouse, Ballymena
Leave the busy shoppers behind and escape to The Grouse. In the heart of Ballymena, it's the perfect place for an afternoon tea. Just relax in the elegant surroundings beside a cosy fire. Then enjoy a delicious selection of freshly cut sandwiches, scones with cream and jam, cakes, pastries and something from the tea and coffee menu. Unless, of course, you'd rather opt for the Sparkling Prosecco Afternoon Tea. Served daily from 3:00pm - 5:00pm
That's our round-up of the top tea spots. Though, of course, you know wherever you go in Northern Ireland you'll find someone just waiting to put the kettle and welcome you with a good cup of tea.