Harry, who currently plays in Irish Mens rugby 7s team, has represented Ireland at both the Olympic Games in Tokyo and the Rugby World Cup Sevens. He is also passionate about travel and shares his adventures on Instagram at his Salty Nuts page (saltynuts_)
But despite his career and hobby taking him all around the globe he admits he was unprepared for just how thrilling a long weekend in Northern Ireland can be. Harry said: "I was blown away and had one of the best weekends I can remember - I'm already looking to plan another trip."
Harry, along with his pal Chris Knight, checked into The Old Inn in Crawfordsburn and kicked off their break with a visit to the on-site luxurious Treetop Spa. This boutique hotel is located just 15 minutes from Belfast and five minutes from the city of Bangor, a popular seaside destination for locals. Bursting with character and old-world charm, The Old Inn turned out to be the perfect rural retreat for Harry and Chris to unwind and enjoy gourmet dining.
"The Old Inn was the perfect start to our trip to Northern Ireland. A sauna, hot tub, heated pool, steam room as well as a relaxation room for cocktails - you can't beat that!"
After refuelling and relaxing, the pair enjoyed an early night, in preparation for day two which took them down to the nearby Bangor Marina for a stand-up paddle board session with SUP-Nic. The duo, along with their guide Iain headed out on a two-hour paddle exploring the coastline before tucking into a picnic hamper full of local delights. The hamper was perched on a paddle board as the group made their way along the coast, but thankfully it made it back to land with its contents dry and ready to eat. Harry said: "We had such a fantastic morning on the paddle boards, exploring this part of the Co Down coastline. Ian is such a stellar guy, and I would highly recommend this experience."
Feeling chilled out and relaxed, the pals headed to Belfast for the next part of their weekend adventure.They checked in at the fabulous Grand Central Hotel for two nights. Set in the heart of Belfast in the Linen Quarter, the hotel is a spectacular hub for exploring all that the city has to offer. With its 300 ultra-comfy bedrooms, the glitzy hotel also boasts the Grand Café, Seahorse Restaurant and Northern Ireland's tallest cocktail lounge, The Observatory.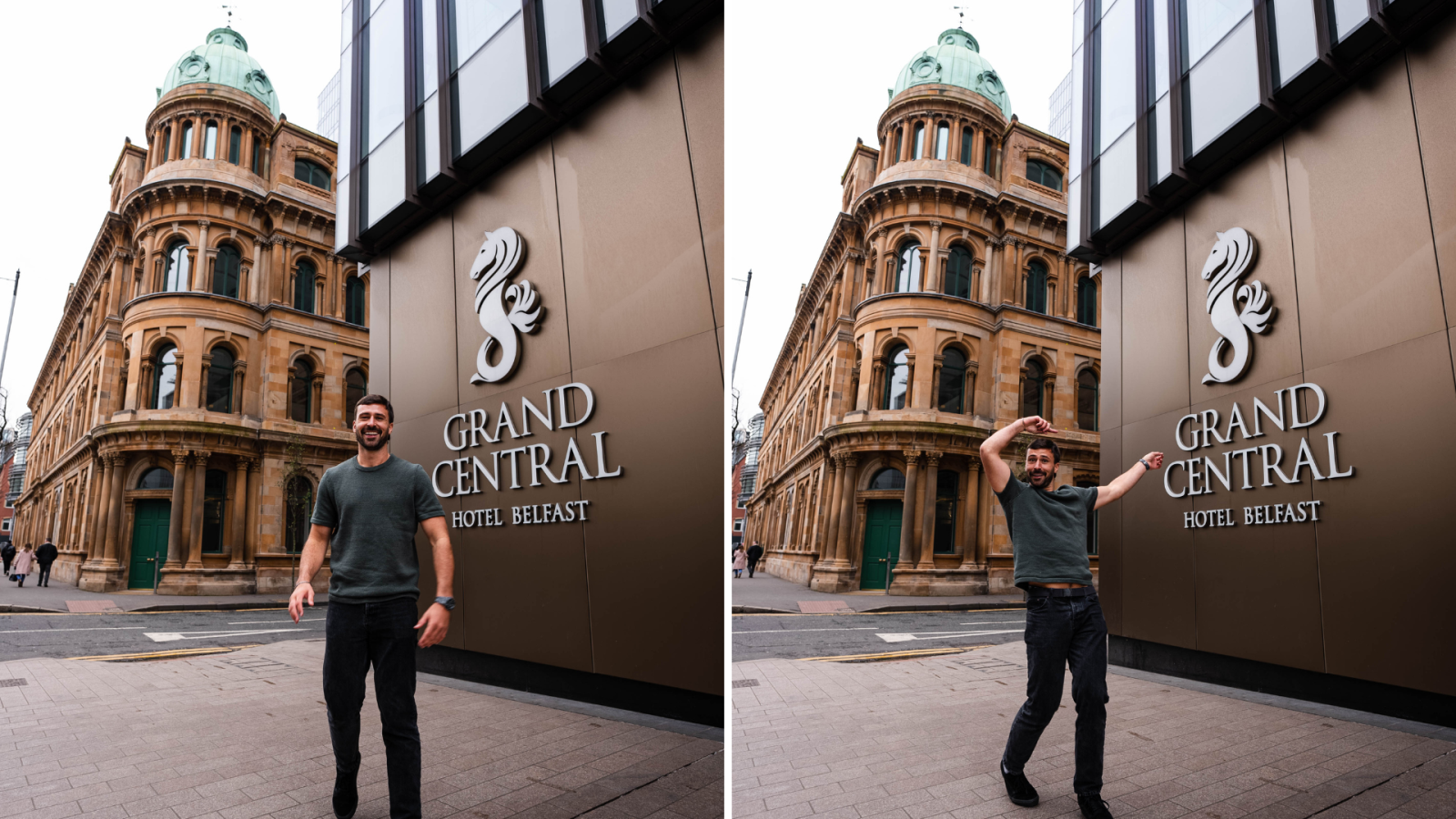 Next on the itinerary was the Sensorium Experience with Taste & Tour. The experience takes place in the National Bank Building in High Street. Harry and Chris decided to walk through the city centre on the way from the Grand Central. There was no sign of Ted Hastings, but they did stop off at the underpass made famous by Line of Duty for an obligatory selfie.
Belfast's interactive cocktail experience promises a sensory overload and Harry and Chris weren't disappointed.The Sensorium helps to explore how sound can affect your taste and whether you're a 'super taster' with loads of fun along with the way. The two-and-a-half-hour experience includes two tall drinks, and a guided session which culminates in two bespoke cocktails as the pals explored why they like what they like through a series of sensory experiments.
"I'm still not sure if I'm a 'super taster' but a visit to the Sensorium will definitely get the senses firing," said Harry.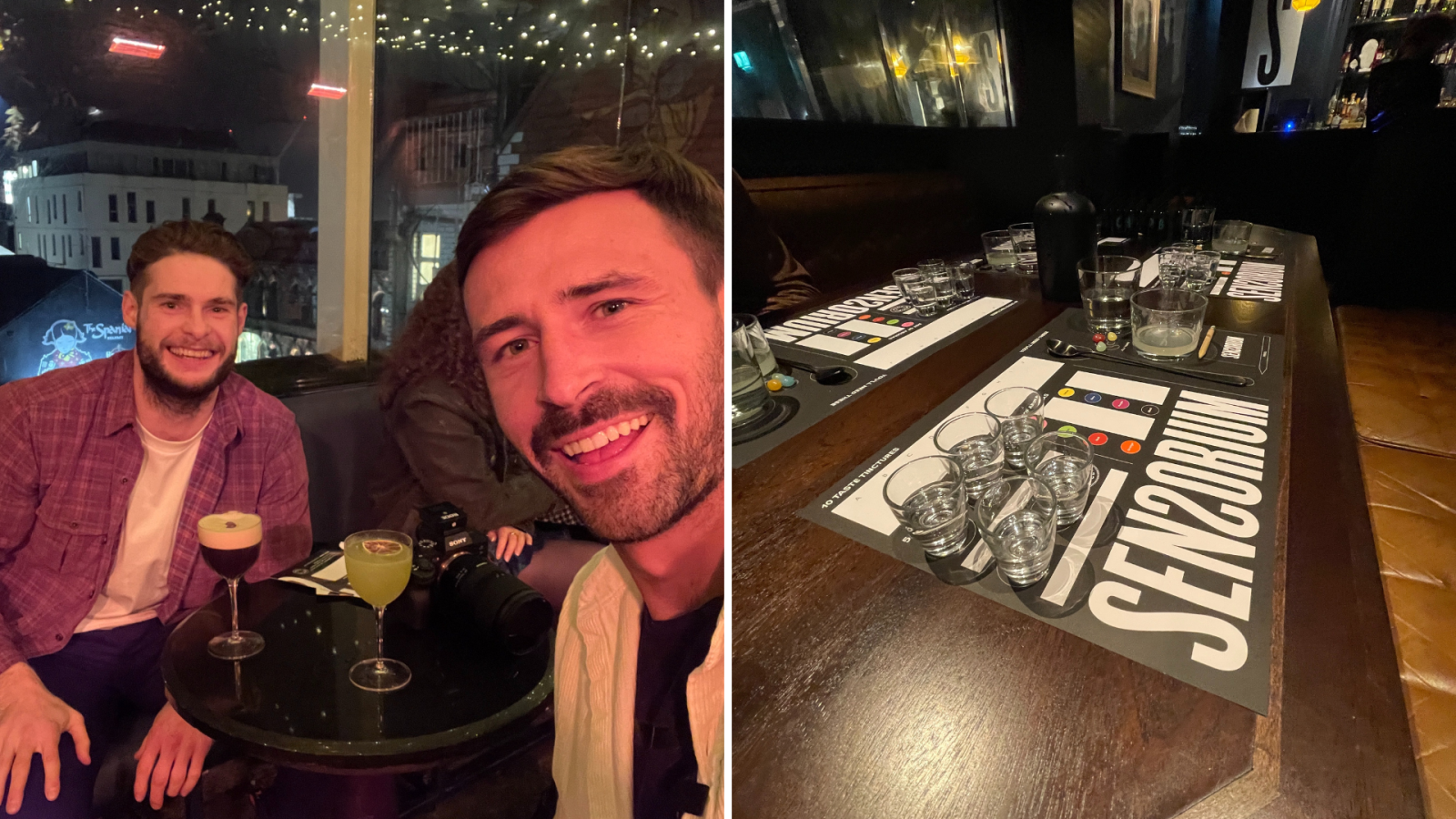 Having worked up an appetite, Harry and Chris headed to dinner in one of the newest restaurants in the Cathedral Quarter, Waterman, which is run by celebrity chef Niall McKenna and his team. Harry got stuck into a mouth-watering meal of halibut with spiced beans and fennel with a side of celeriac and Young Buck arancini. For dessert, he went for the amazing brown bread and Guinness ice-cream.
"This was a wonderful meal. I was feeling adventurous so opted for the brown bread ice-cream for dessert and it was amazing."
The next morning began with some porridge in the Grand Central with just a little dash of Bushmills whiskey and some Waggle Dance honey.There was no let-up for Harry and Chris as day three had the boys back out on the water, this time on Hydro Bikes with Lagan Adventures, based in Belfast.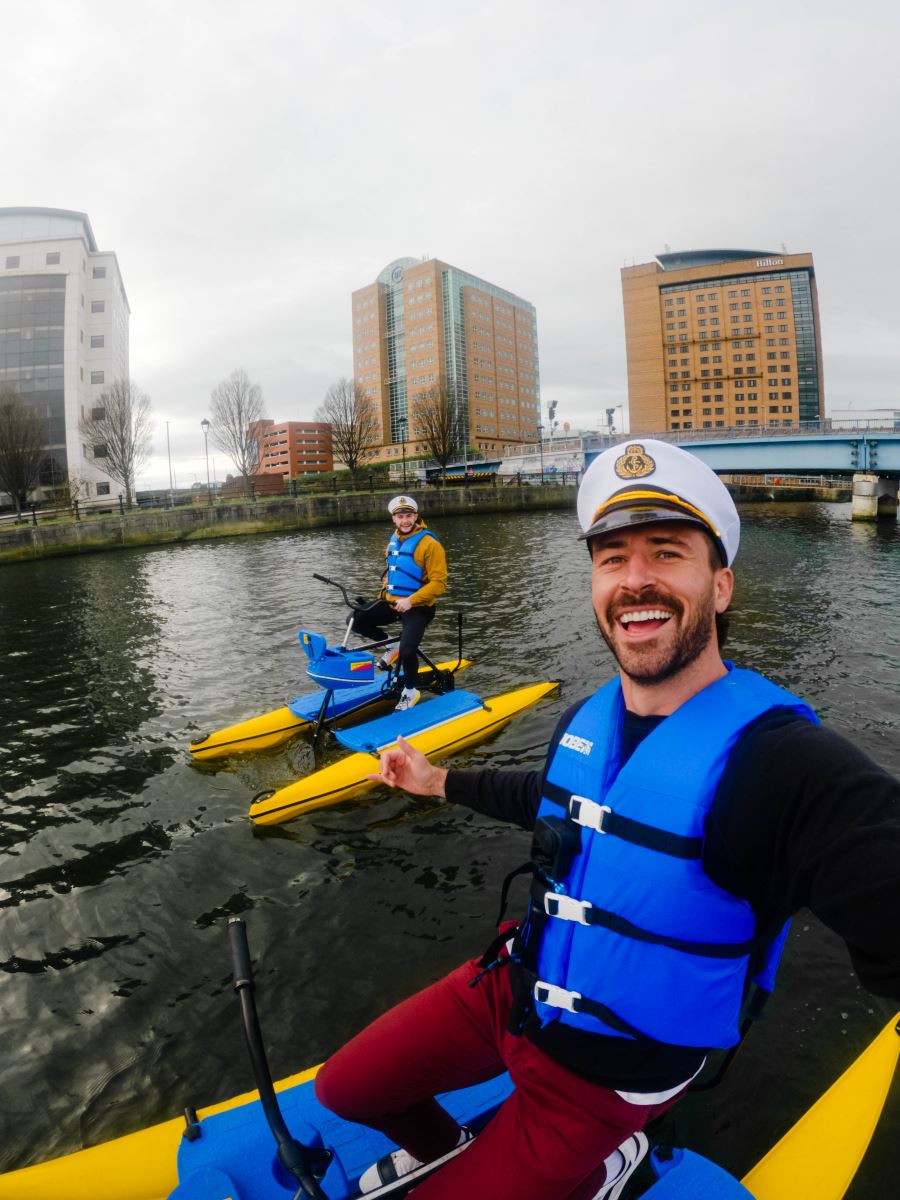 This experience takes cycling off road and onto the water, exploring the River Lagan and Belfast from a different perspective.
For Harry who loves keeping active, the Hydrobikes were a fun change from the norm, providing a gentle, low-impact aerobic total body workout; although as he and Chris found out, that all depends on how fast you pedal! Having worked up a thirst pedalling along the River Lagan, Harry and Chris then joined back up with their Taste & Tour guides, this time for the City Cocktail Circuit. As part of the experience the pals visited five city centre cocktail venues, enjoyed seven different cocktails, and got involved with the plentiful nibbles, demonstrations, and history lessons on their beverages of choice.
"The cocktails were all delicious and I can confirm they were full strength!"
Next, it was off to dinner at the fabulous James St restaurant which offers visitors to the city a casual and contemporary dining experience, specialising in chargrilled and aged steaks. Harry kicked off his meal with squid and crab linguine, followed by a mammoth fillet steak, sourced from County Tyrone and served with chips and a delicious chimichurri sauce. For dessert, he enjoyed a beautiful chocolate tart.
"The meal was just fantastic, we both would highly recommend James St."
After a well-earned night's rest in the sumptuous Grand Central, Harry and Chris began Sunday with a trip to the iconic St George's Market. Open Friday, Saturday and Sunday, it offers a huge range of local, continental and specialty foods and the guys stocked up ahead of their their trip home to Dublin.
Before hitting the road however, there was time for one last activity on their action-packed itinerary. The Street Art Walking Tour with Seedhead Arts Belfast Street Art has flourished and artists from around the world come to paint the city's walls. Devised and led by the local artists who have driven the scene in the last few years, this is a 90-minute, gentle-paced walking tour around the ever-changing street art of the Cathedral Quarter.
Harry loved this unusual take on a city walking tour, saying "This was the perfect end to the perfect weekend. I am still so impressed. It was great fun and a great way to see different parts of Belfast.
"We crammed so much in from Thursday to Sunday, I was wrecked, but, I have to say, it was one of the best weekends I've ever had."