To get in the Christmas spirit Discover NI invited Dublin teacher and blogger, Rachel Ivie, up to Belfast for a girl's getaway.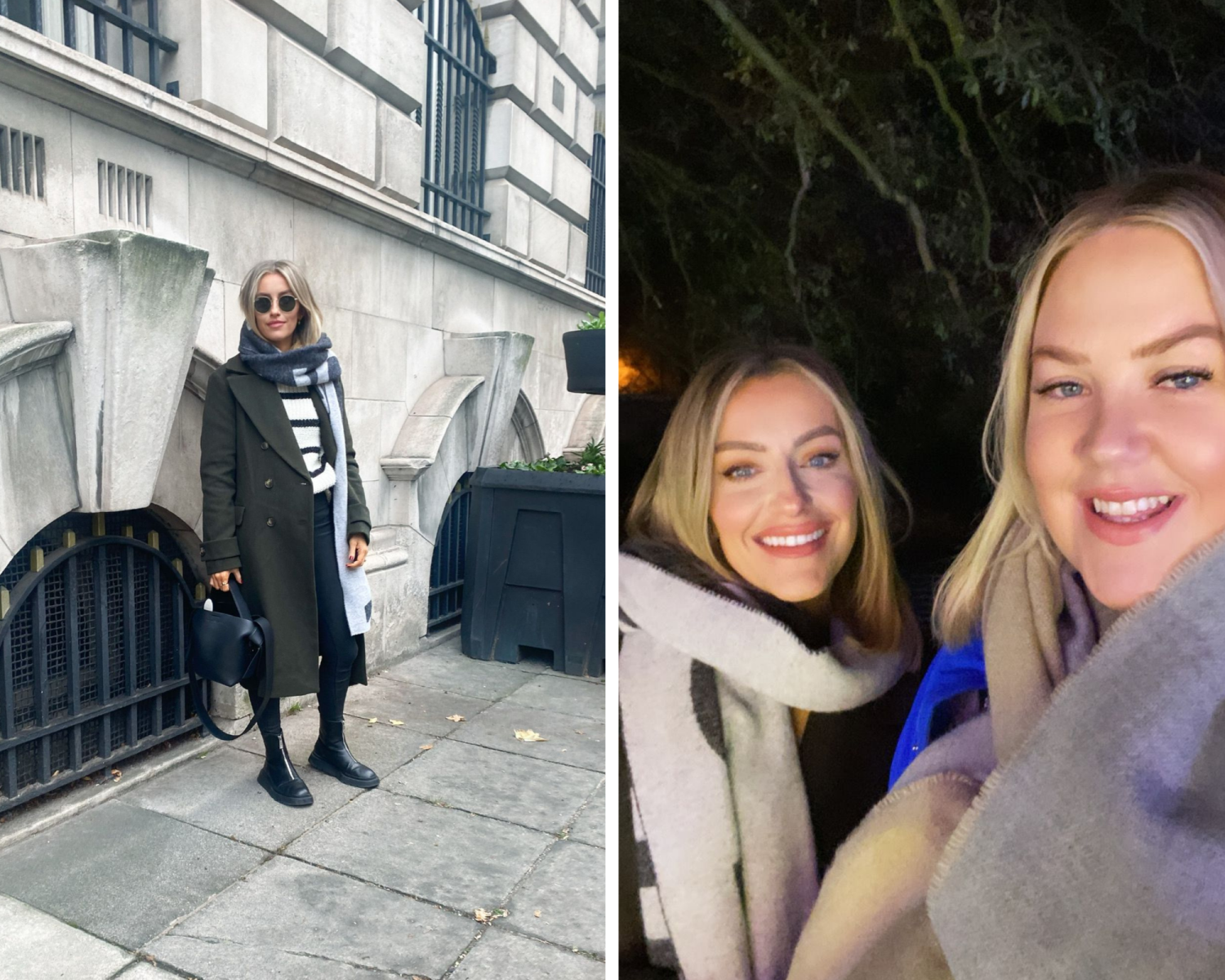 I was so excited when Discover NI invited me to experience the Christmassy activities on offer in Belfast (during December 2021). After a hectic teaching year, and with Christmas around the corner, it felt like perfect timing for a girl's trip with my friend Emma...
In under two hours travel time, we arrived at The Fitzwilliam Hotel in the heart of Belfast City centre. The hotel's lobby is beautiful, and throughout the hotel you are met with sumptuous colours, patterns and furnishings. The room we stayed in was beyond perfect, with incredible views over Belfast and a luxurious bathroom.
After taking in the views over the city, we headed to the hotel's restaurant for a seasonal afternoon treat – a luxurious, five star Afternoon Tea. The tea included a selection of finger sandwiches, pastries, and home baked scones with clotted cream – delicious!
With afternoon tea to fuel us, it was time for a spot of Christmas shopping in Castlecourt. Located super centrally and kitted out for Christmas, there are a range of shops to choose from including BPerfect Cosmetics and DV8.
Next up it was time to check out Bright Lights at Botanic Gardens. Botanic Gardens in Belfast is a special place to visit at any time of the day or year, but the festive light show gives it a magical twist. The trail of lights in the garden sparkles with over 18,000 light bulbs, 25,000 meters of neon tubes, 10,000 meters of tree lighting, and some 160 lantern artisans never seen in Northern Ireland before!
This fab evening was topped off with a great dinner at The Barking Dog, located just five minutes from Botanic Gardens. This is a perfect spot to spend a wintery evening thanks to a blazing fire and warming food.
We started day two in Belfast with my favourite meal of the day – breakfast. The Fitzwilliam has a great range of cooked options, and I opted for the toasted Sourdough, Poached Eggs, Smashed Avocado with Roast Plum Tomatoes. If you prefer something lighter to start your day, the restaurant provides a range of fruit, yoghurt and pastries too.
No visit to Belfast would be complete without a stop in at St George's Market. It's the last surviving Victorian covered market in Belfast and is bustling with a variety of food stalls and crafts. You're sure to find a Christmas present in there, and if not, it's a lively place to stop for a bite to eat.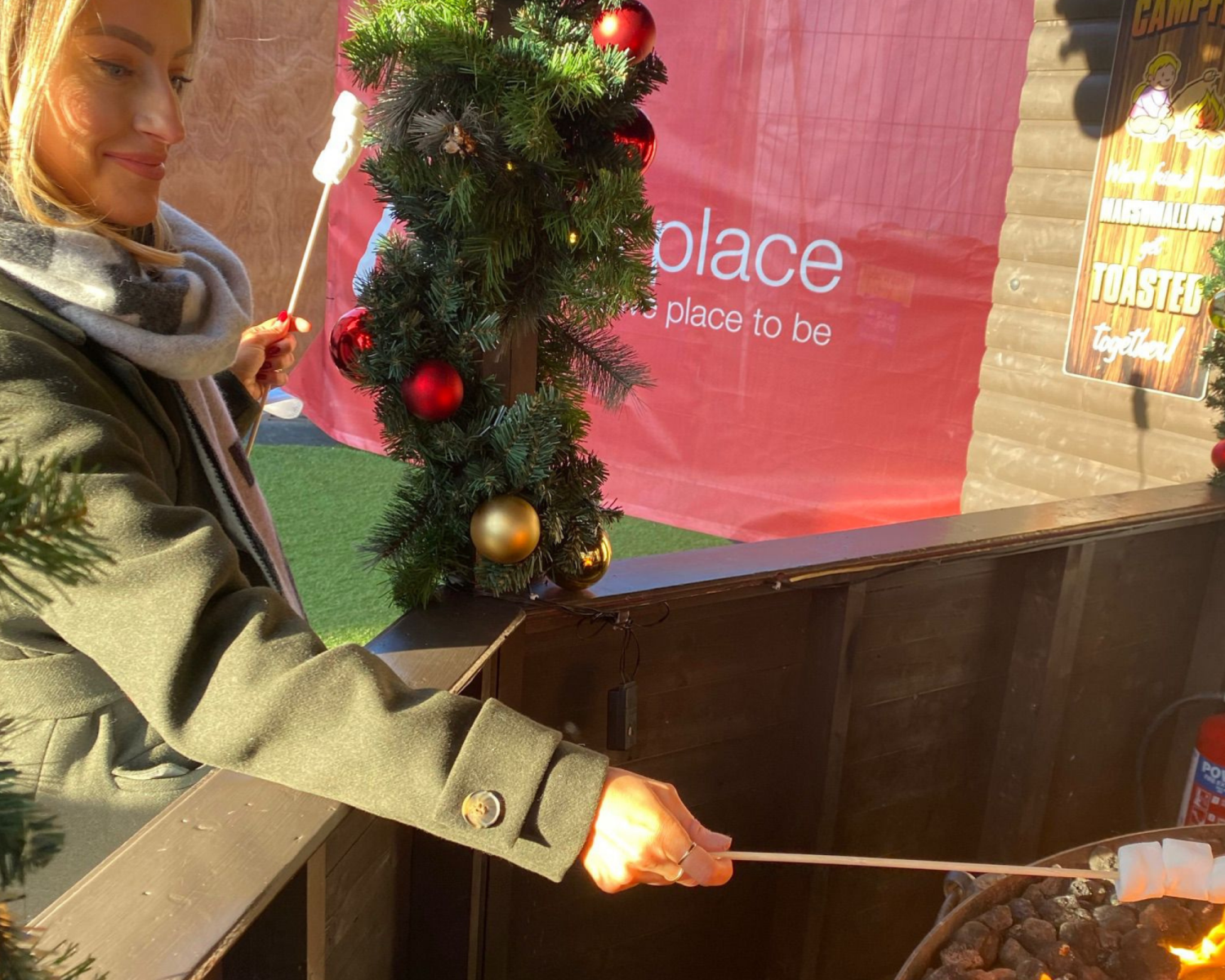 Just five minutes from the hotel is the Christmas Market located in the grounds of Belfast City Hall. There are so many stalls this year, along with gorgeous food and drink options including bratwurst, mulled cider, sweet treats and paella. You can even roast marshmallows over an open fire here!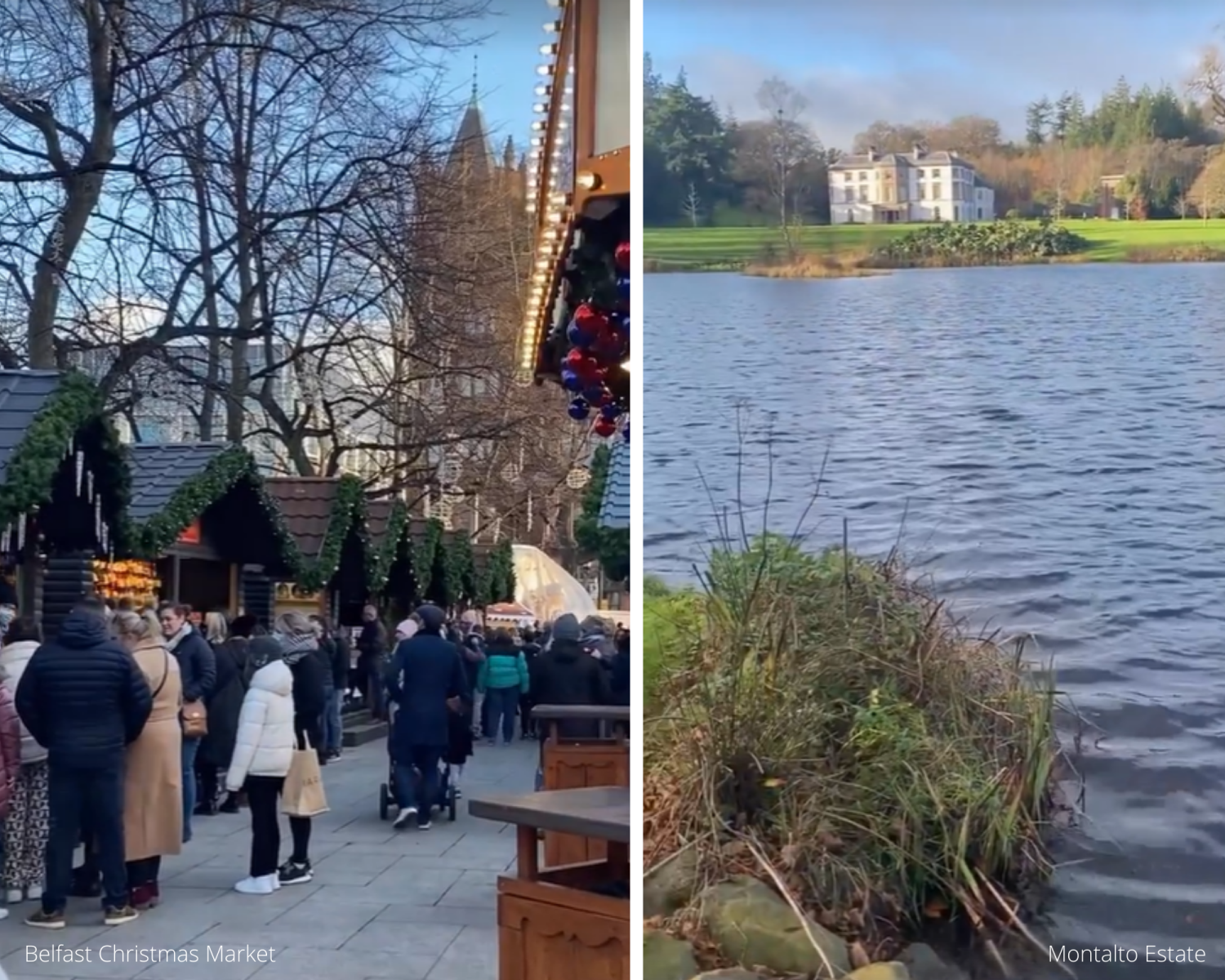 Our final stop on our festive tour of Northern Ireland was the lovely Montalto Estate. The views along the lakeside walk are picture perfect and a brilliant way to reconnect with nature in a relaxing setting.
We couldn't complete our visit to Montalto without a visit to its magical Christmas shop. There is an extensive range of homeware and plants, perfect for Christmas gifts. It's great for kids too, with beautiful puzzles, art & craft sets, board games and wonderful wooden toys.
After a visit to the Montalto's fab restaurant and coffee shop, it was time to head back to Dublin.
There are so many festive gems to explore in Belfast. It was a fabulous weekend from start to finish, with great hotels within walking distance of attractions, a super range of shops and great food – what more could you want!

A special thanks to Tourism NI who organised this trip on my behalf.
Article originally published in December 2021