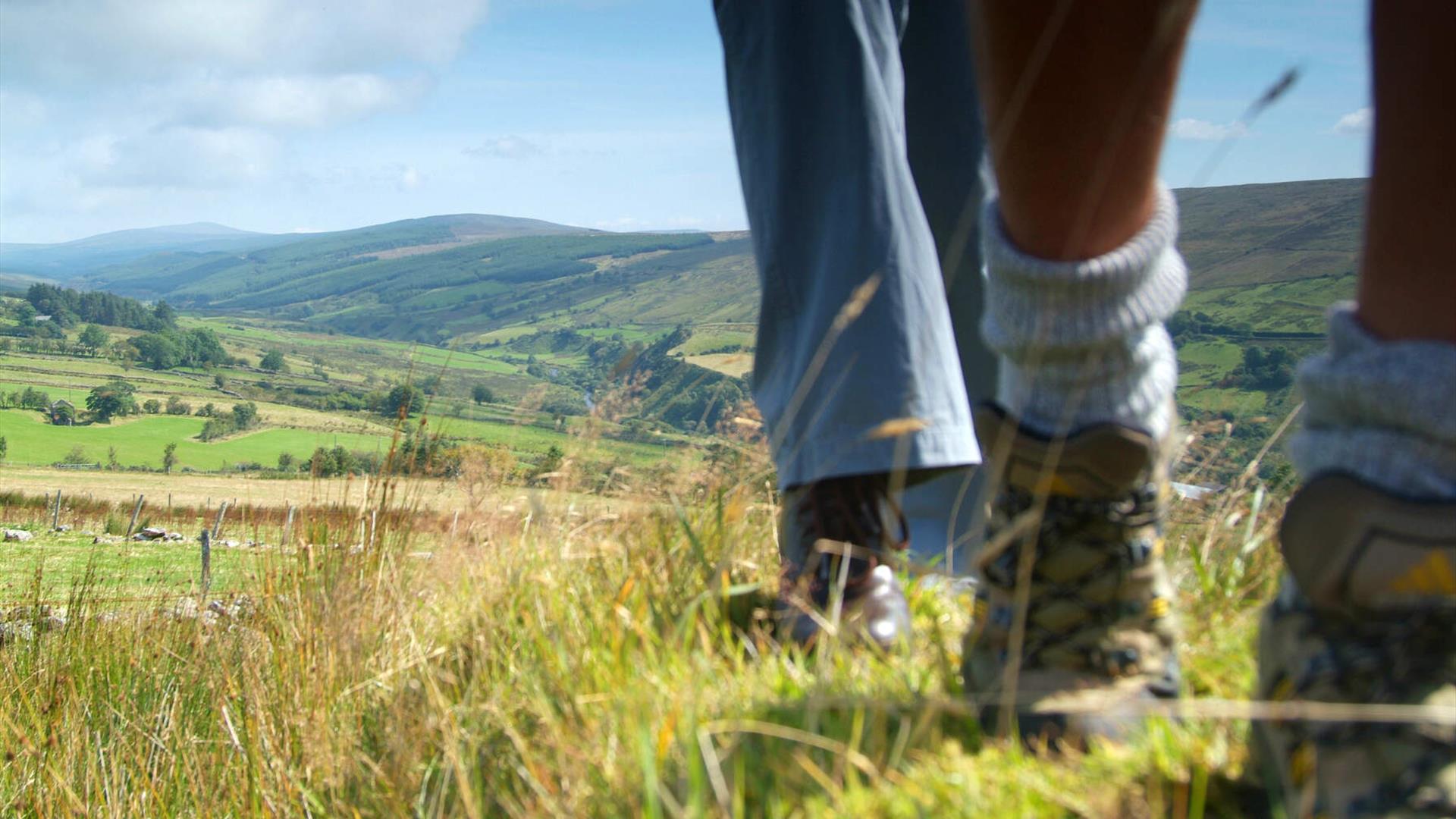 About
Get your walking boots ready for the Omagh Sperrins Walking Festival, taking place across the Sperrins Area of Outstanding Natural beauty (AONB).
The programme, developed and delivered by The Sperrins Partnership and outdoor experts Far and Wild, is designed to help walkers of all abilities to enjoy our beautiful landscape as well as promoting health, physical, mental and emotional wellbeing. Sperrins Walking participants will not only enjoy discovering a destination filled with unique tourism experiences, but a great choice of walks ranging from leisurely strolls to more demanding longer walks, all in small groups, guided by experienced leaders.
Choose from the walk options below to plan your outdoor weekend. Please choose a grade and length of walk that suits your experience and interest.
Saturday Moderate Walk 'Migration & the Muintir Looney'- The Robber's Table & Gortin Lakes 7km
This walk will chart the demographics of migration from early Christianity to the Middle Ages in Ulster, revealing how the local landscape- features and place names- reveals a colourful story. Open hill-side, small tracks and minor roads are all encountered on this historic walk on the Western edge of the Sperrins, ideal for the moderately fit walker.
Saturday Challenging Walk: 'Spirits in the Glens- a living Geology' Mullaghcarn 12k
The schist rock of the North-West of Ireland is among the oldest on the island and its geology tells a fascinating story. In the Sperrins Mountains where the temperate rainforest that once covered the entire island of Ireland still survives, a myriad of native species cling on. This challenging walk across the 'Ridge of the Cairn's visits these ancient habitats and celebrates their survival.
Sunday Moderate Walk: 'The Ecology of the Mourne Valley'- Tattynure to Bessy Bell 9km
This river valley corridor, home to roads and old railways familiar to all, is totally dependent on the ecology of the Strule / Mourne river systems. Viewed from the hills above this walk will explore the human / environment relations from earliest times to the present day in the company of salmon, otters, the pearl mussel and other rich ecologies of the area.
Sunday Challenging Walk: 'Written in Stone- the vernacular landscape' Sloughan Glen & Bollaght Mt 12km
Brian Friel, the playwright has Manus say in his play The Gentle Island, " There's a name for every stone about here, sir, and a story too." This walk will explore the rich vernacular architecture of the Slougan / Bollaght mountain area in the 'ordinary' homes and outbuildings and the landscape that made them. Often disused these buildings and landscapes are rich in story – there were someone's home and shelter one time.
Important information about the walking tour:
Please note no dogs are permitted on all walks due to farm animals being in close proximity to routes.
Please arrive on time and come prepared for your choice of Walk. Where relevant a bus will be provided to transport you to and from your walk route and we ask you to leave your car at registration.
If you have not already done so online, you will be asked to complete Participant form on arrival by Far and Wild staff which will included consents for First Aid treatment etc
For Challenging and Moderate Walks please bring/wear:
Hiking boots; appropriate outdoor clothing; rainwear; packed lunch; sufficient water. Gaiters and walking poles are optional but advised.
For Easy Walks please bring:
Footwear that can handle uneven terrain; rainwear; packed lunch; sufficient water
Registration venue on Saturday 25th March is Gortin Glens Forest Park classroom. Sunday venue is yet to be confirmed. Registration will commence at these times on both Saturday and Sunday:
Challenging Walk 9am
Moderate Walk 10am
Refreshments will be served after the walks. Please stay around afterwards for some music and craic at the venue/s.
Book Tickets
Guide Prices
| Ticket Type | Ticket Tariff |
| --- | --- |
| Adult | £5.00 per ticket |
Note: Prices are a guide only and may change on a daily basis.