Just over two hours up the road from their home in Naas, County Kildare, the Harvey family of "Where Are We Going Tomorrow" fame, spent three days getting into the festive spirit with a giant adventure across County Down. Here's what they got up...
Day One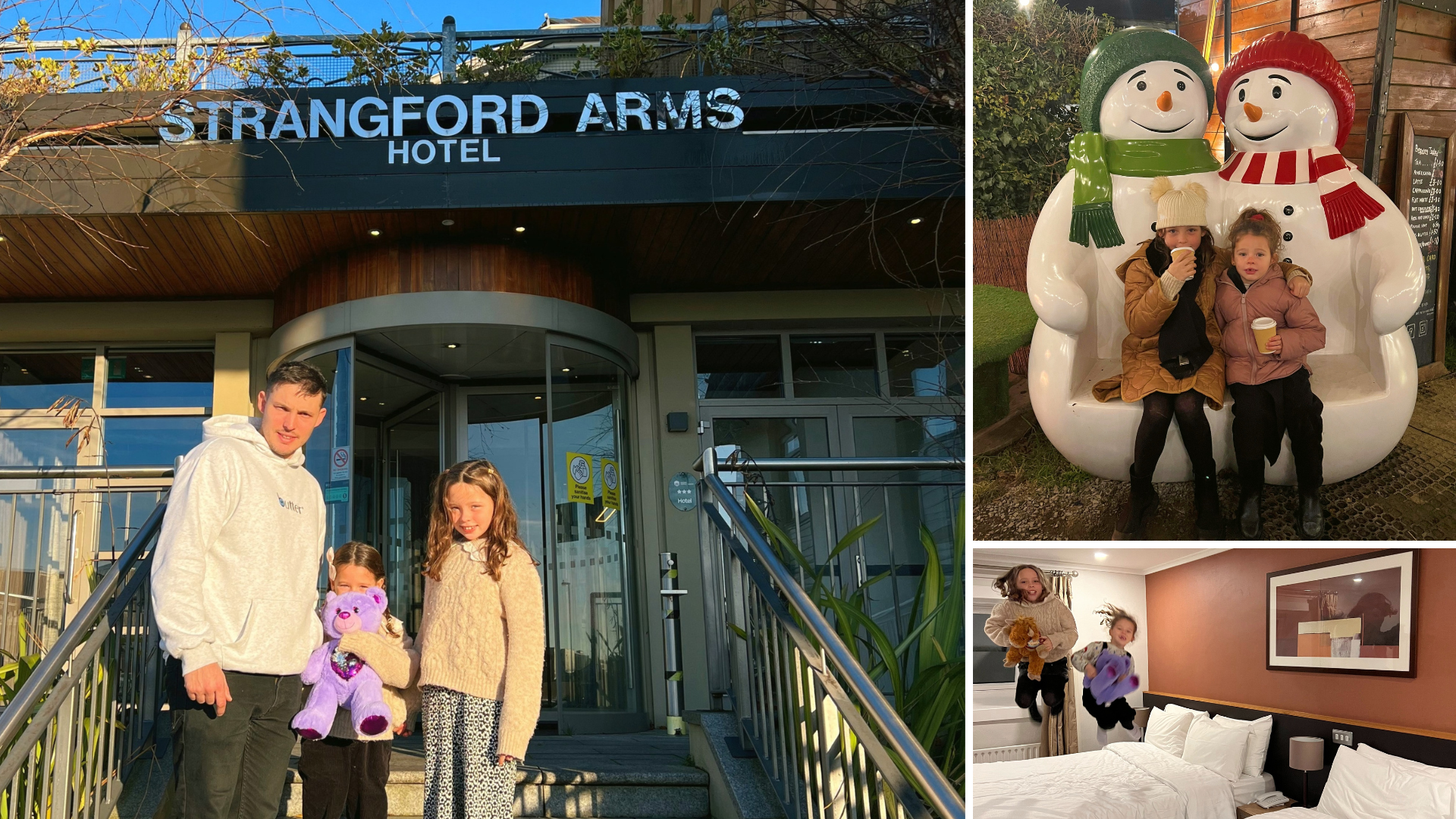 A truly magical Christmas After Dark at The Ark Open Farm
To begin our family trip, we joined Santa and his elves at The Ark Open Farm, enjoying the beautiful Christmas lights and atmosphere. It was a truly festive setting and the kids loved it. There was so much to do including a farmyard visit with reindeer feeding, a visit with Santa, hot chocolate and marshmallow toasting. The girls really enjoyed building their own unique teddy bear, having lots of fun at the elf village, decorating gingerbread men, making reindeer food and visiting the sweet shop of course! We could tell that this would be a great place to take the kids at any time of the year - and it certainly was an entertaining way to spend a few hours together.
Relax and unwind at Strangford Arms Hotel
We rounded off the first day by heading straight to our hotel, hoping to be checked in and into our pyjamas in time for the girls' bedtime. We were delighted to be greeted with a cosy room at the Strangford Arms Hotel, a Victorian hotel situated in the lively town of Newtownards, at the foot of Scrabo tower. It's the perfect place to explore the local area and attractions. We indulged in the festive menu before bedding down for the night and dreaming of what we would be getting up to on the rest of our weekend trip.
Day Two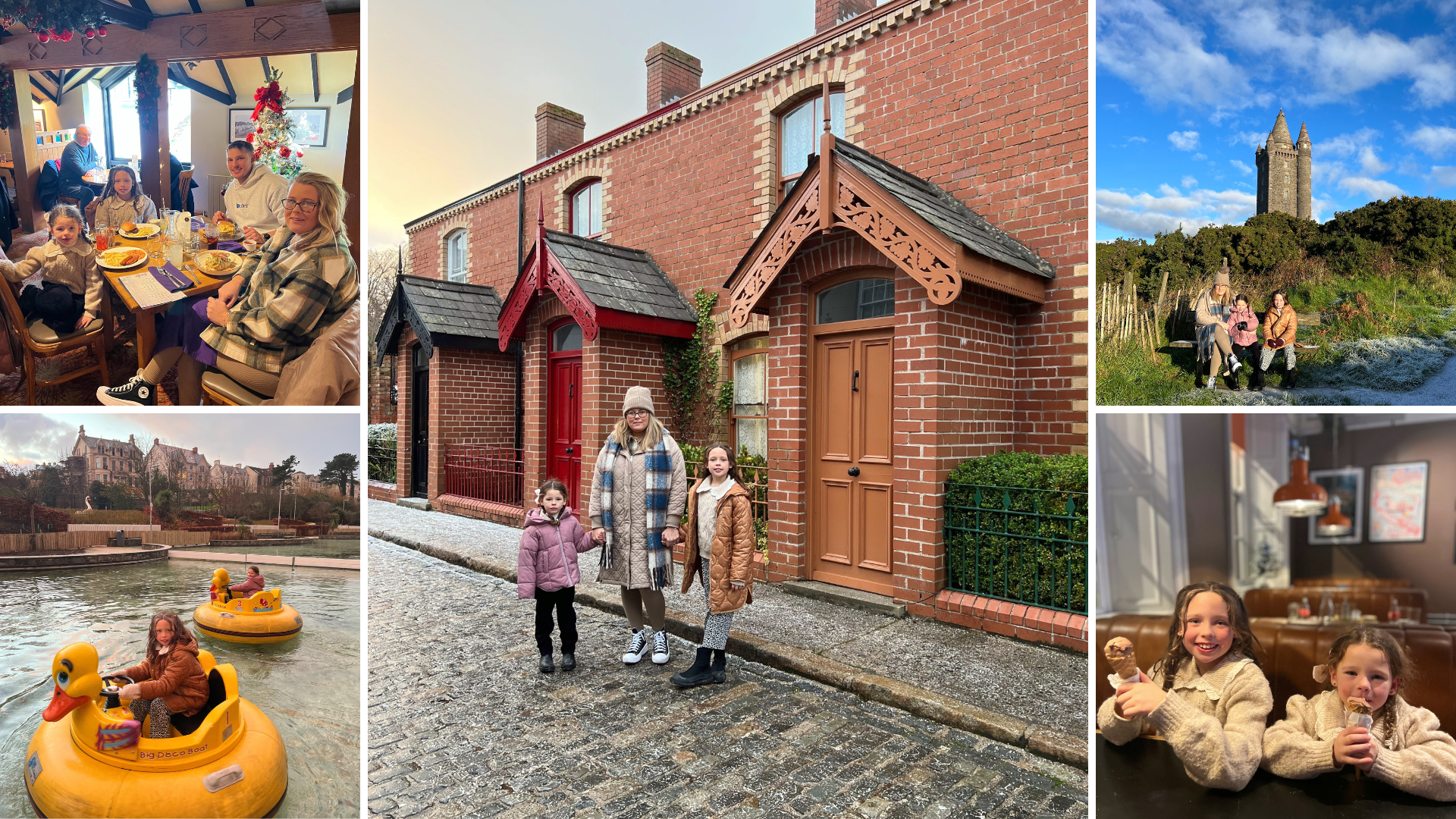 Early morning exploring
On our first full morning we headed up to Scrabo Tower, which overlooks Strangford Lough and the whole of North Down and has amazing views. It was a such a beautiful, frosty morning and only a short walk from the car park up to the top - perfect for little legs.
We then headed down into the town, and after a stroll around Newtownards Market in the town square, we drove the short distance to the Cultra Inn, a gorgeous spot for lunch. Located in the beautiful grounds of Culloden Estate, the wholesome menu had plenty of choice for us all to enjoy. I highly recommend the pan roasted chicken supreme with savoy cabbage, buttery mash and wild mushroom sauce.
Christmas Cheer at Ulster Folk Museum
After lunch we experienced a traditional Christmas along the cobbled streets of Cultra, which is an immersive experience at the Ulster Folk Museum. There were seasonal craft workshops run by the staff during which we made Christmas cards and willow star decorations, which put us all in the Christmas spirit. We especially loved listening to seasonal tunes by the carol singers, along with the brass band and other traditional musicians, and this was made all the better with a glass of mulled cordial, and slices of Christmas cake and cinnamon toast. Delicious!
Pantomimes, Pizza, and Pickies Fun Park
We then stopped by Pickie Fun Park in Bangor, where the girls had great fun on the amusements and playground. We strolled around the marina admiring all of the boats and then headed back to our hotel to get ready for our evening plans, which included a trip to the Queens Hall for a production of Santa's Sooty Christmas.
Centre Stage Theatre Company brought this hilarious Christmas tale to life with catchy songs and simple effects, and the kids were laughing the whole way through. We recommend catching a family friendly show if you need an hour or two of light family entertainment.
To finish off another great day, we headed to Ards Shopping Centre for a look around the shops, of which there was an impressive selection, before a bite of delicious pizza and scrumptious ice cream at Little Wing Pizzeria, which was a real treat! This family-friendly restaurant has several branches across Northern Ireland, and makes for a hassle-free dining option if you've got kids.
Day Three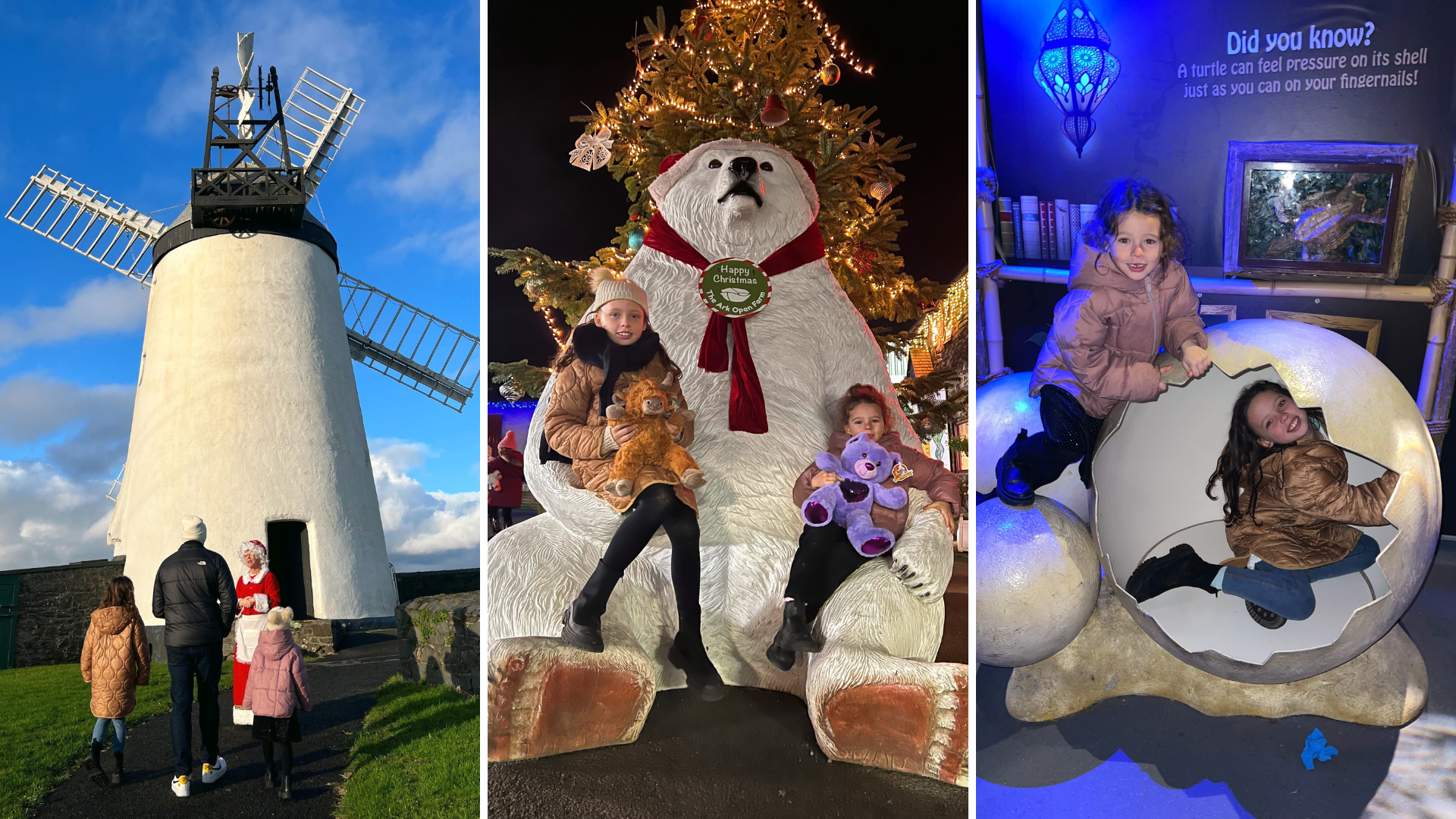 The best part… meeting Santa!
To begin our third and final day of adventures, we explored Ballycopeland Windmill, which is the last working windmill in Northern Ireland - and the sole example of a functional roller reefing system left in existence worldwide! They have both guided and self-guided tours on offer here, as well as a lovely little café. The girls had a ball visiting and loved the challenge of climbing up the steps to the top of the windmill.
We were lucky to then meet Santa, listen to a story from Mrs Claus, and there was a workshop for creating Christmas decorations, which the girls got to take home as a memento of their visit. As I'm writing this I'm enjoying the view of our Christmas tree at home, which is now covered in their handmade creations created during our lovely trip to County Down - reminders that will last a lifetime.
Underwater adventures
We were beyond excited to finish the day visiting Northern Ireland's only aquarium, Exploris. The aquarium has lots of tanks filled with a variety of sea creatures including sharks, penguins, rays, seals, fish and so much more - definitely another must-see if you're in the area with kids in tow!
Walking in a winter wonderland
On the drive home to Naas, we stopped by Castlewellan Forest Park for a short walk. This country park boasts 450 hectares of land lying just north of the Mourne Mountains. There's a path around the lake in its centre, which has lots of picturesque stops with benches to admire the views, and it's incredibly peaceful. While there, we discovered there's lots of outdoor activities available for all the family to enjoy, including camping and touring, walking, cycling, horse riding, fishing on the lake, canoeing and orienteering.
The girls loved the maze and playground, and could have spent all day there having fun. We felt there was so much to see and explore at the park, so the next time we go, we would leave a full afternoon to make the most of all the brilliant activities that are on offer.
Feeling inspired? Get planning your own family getaway this winter...
Gillian, Mick and the girls had an amazing trip exploring County Down on their winter getaway. There is so much to see and do in Northern Ireland and it's easy to plan your own itinerary online. Check out our County Down section for inspiration and start planning your adventure today.