If you are looking for a perfect staycation location, you can't go wrong with a visit to the Causeway Coast and Glens in Northern Ireland.
Discover NI recently invited Northern Ireland food and travel bloggers Dish You Were Here, Eating Ideas and Jackie's Blog Spot to spend a few days exploring some of the fantastic experiences along the way.

First stop for Marty, Lynne and Jackie was a private afternoon tea at the wonderful 16th century Glenarm Castle. When George the family butler greets you by the roaring fire in the entrance hall with a glass of champagne, you know that you're in for something special.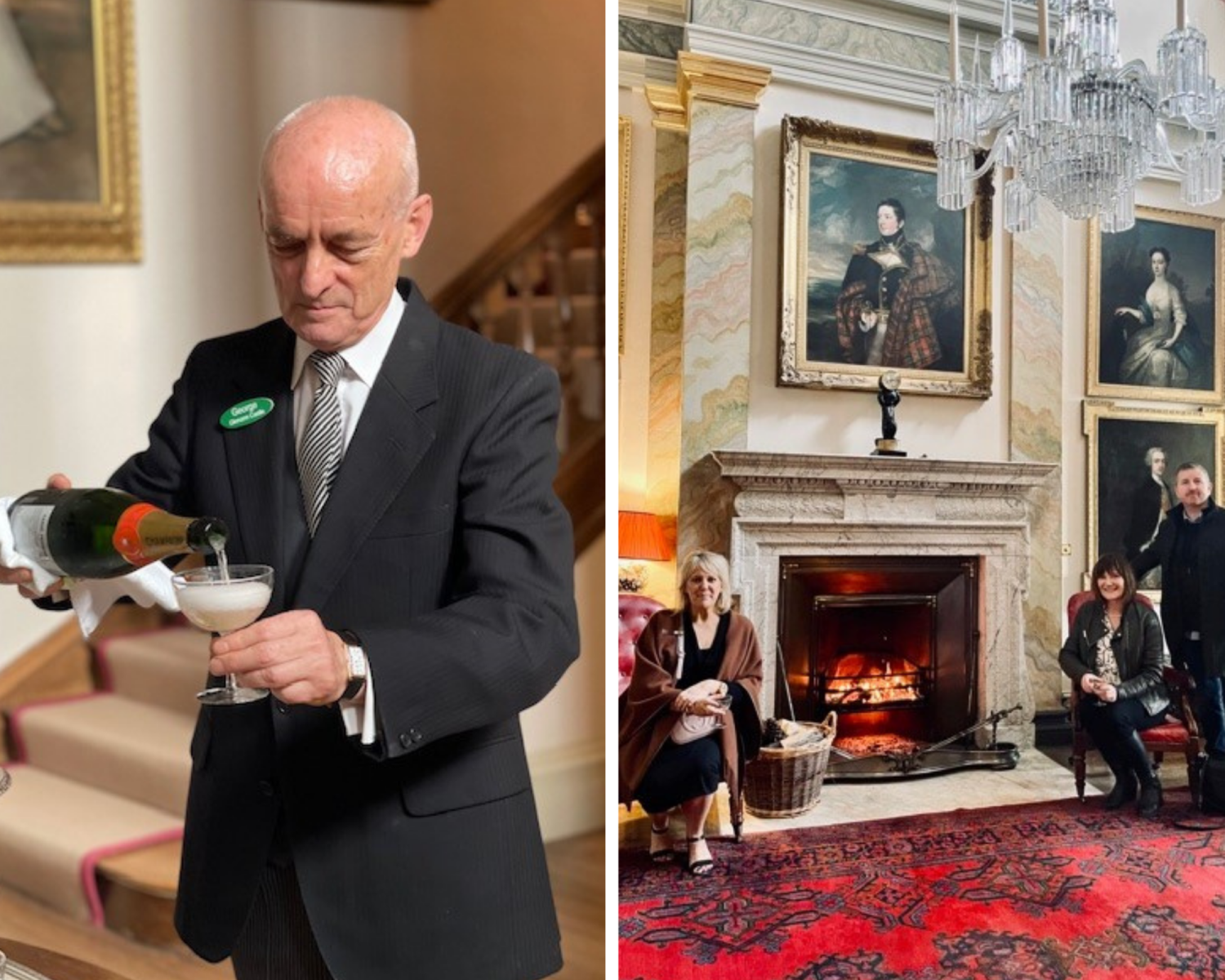 George and the Glenarm team welcomed us with open arms, serving afternoon tea in the castle dining room. With organic Glenarm beef and fresh smoked Glenarm salmon on the menu, flickering candles and fires ablaze, this made for an experience to remember.
Also included was a tour of the castle and a chance to explore the stunning castle grounds, which is not to be missed.
Our next stop was the Salthouse Hotel, where we would base ourselves over the next couple of nights. The hotel is perched high above the town of Ballycastle, with fantastic views over rolling hills to Rathlin Island. It is ideally located to explore the north coast.
We were booked into one of the hotel's eco lodges, a bright and spacious home from home. Each luxury eco-lodge draws its energy from The Salthouse's own local wind and solar supply. With electric car chargers, all powered by the hotel's same renewable sources, this really is a showcase of sustainability for the 21st century hotel.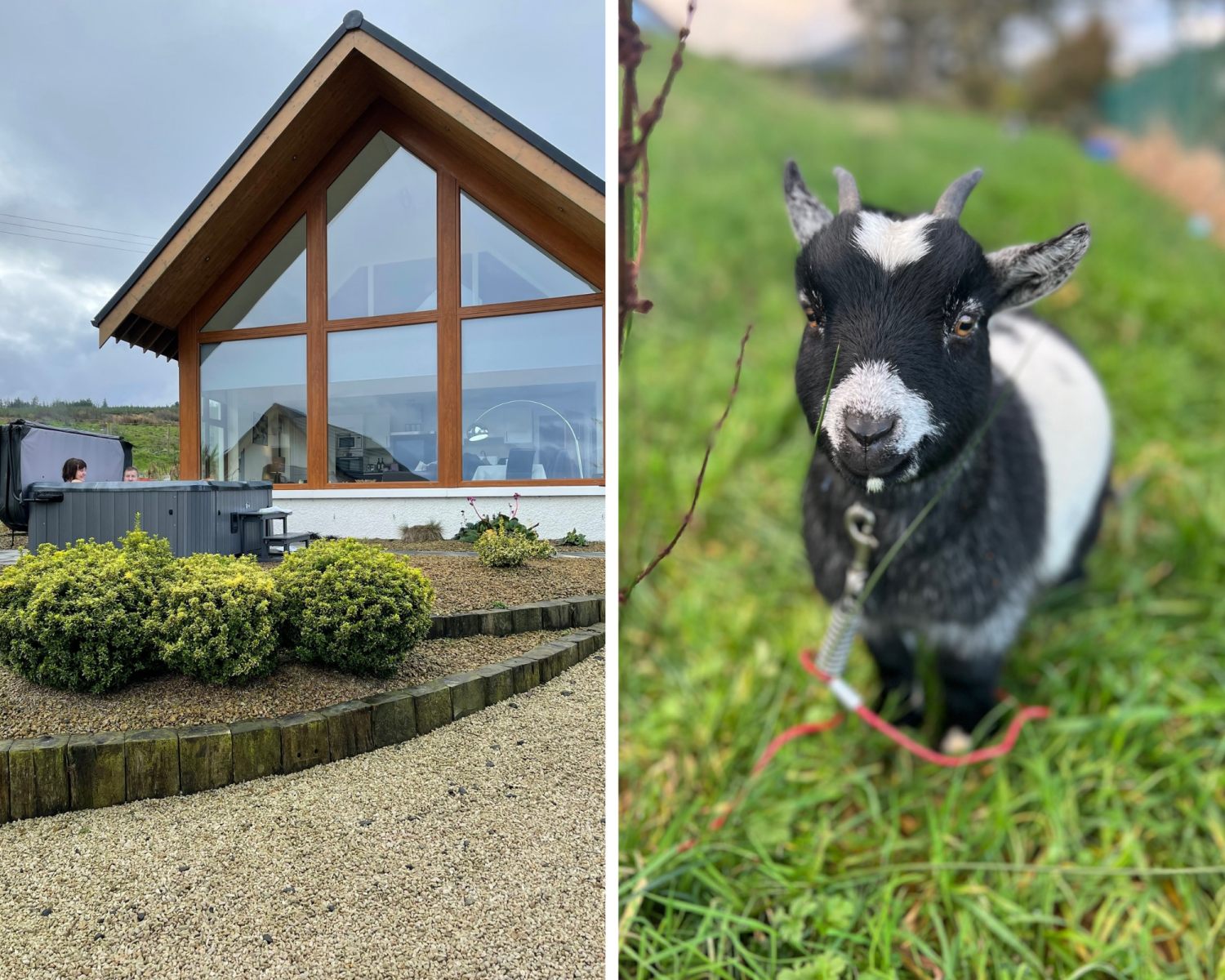 This is the perfect location to pour yourself a glass of something chilled whilst you immerse yourself in your own bubbling hot tub. From the comfort of your lodge's front porch, your hot tub has views of the cutest and jolliest baby goats frolicking in the grass, ducks splashing about in the pond, and chickens roaming freely.
Each lodge is fully equipped with everything you need for a luxury getaway with friends or family. The hotel bar, restaurant & facilities are just a stone's throw from your lodge too.
The Salthouse may be 'eco-friendly' but that certainly doesn't impact on luxury and comfort. Fresh, locally sourced ingredients, including locally caught seafood fresh from the pier, make for a great dining experience.
The list of spa treatments and massages is vast, and combined with steam room, sauna, outdoor hot-tubs and seaweed baths, there's no shortage of ways to get pampered. The lodges have fibre-optic broadband and Wi-Fi, for all those Instagram pictures you'll be uploading! There's even internet-enabled Sky TV, with Netflix and YouTube access; though with the stunning views in front of you, you won't be looking at the TV!
During our stay, we dined at Ocho Tapas in Portstewart. The food here really is something special! You'll not get more authentic tapas without catching a flight to Palma. A vast selection of small plates is on offer, with daily specials, fresh local seafood, freshly prepared dishes made with locally sourced produce and a great selection of wines and local beers. The menu also caters for vegetarian, vegan and gluten-free requirements and a kid's menu is available too.
The staff are friendly, and the service is great, it really is a fantastic experience.
Finally, we were treated to The Spirit of the Bann tour, a unique opportunity to slowly savour the colours and flavours of autumn, enjoy a warm glow and witness the natural and man-made wonders the coast has to offer.
This tour is a leisurely cruise along the river, setting off from Coleraine with Wendy from Causeway Coast Foodie Tours, Ian & Fiona from White River Charters and Whiskey connoisseur, Tim Cooke. This is a very enjoyable three hours of laughter, whiskey tasting, storytelling and more. Peppered throughout with boards of local artisan food and a background on the talented and passionate producers.
All in all, we had a great few days exploring the Causeway Coast and Glens, and would definitely recommend making it part of your short break in Northern Ireland. There are so many gems to enjoy, and the warmth of the welcome you receive means that a trip along the coast stands out for all the right reasons.