When it comes to protecting our beautiful landscapes, everyone has a part to play – and that includes local businesses. Sustainable tourism is on the rise and we're seeing local companies, both big and small, find innovative ways to protect their ecosystems and support the communities they belong to. Which means, as you travel across Northern Ireland, you can feel confident in supporting local businesses that are in turn supporting sustainable and responsible travel.
Here are some of the creative ways businesses have been making a Giant Difference to the land and the people who care for it. We've definitely missed some fantastic examples, so if you spot a business doing their part, please share your story using #MakeAGiantDifference.
Eco-Eats
When you provide for the earth, the earth has a way of providing back! We're not exaggerating when we say your choice of restaurants in Northern Ireland serving locally sourced, seasonal produce is too long to list here. (So instead, we've listed them here.)
But these aren't just mouth-watering buzzwords. Locally sourced means the food doesn't have far to travel, reduced transport means a reduced carbon footprint. And with local suppliers, eating local directly supports the community around you. As you travel around Northern Ireland, keep an eye out for fresh seasonal menus and small local restaurants. That way you can have your cake and feel great about it too.
Built to last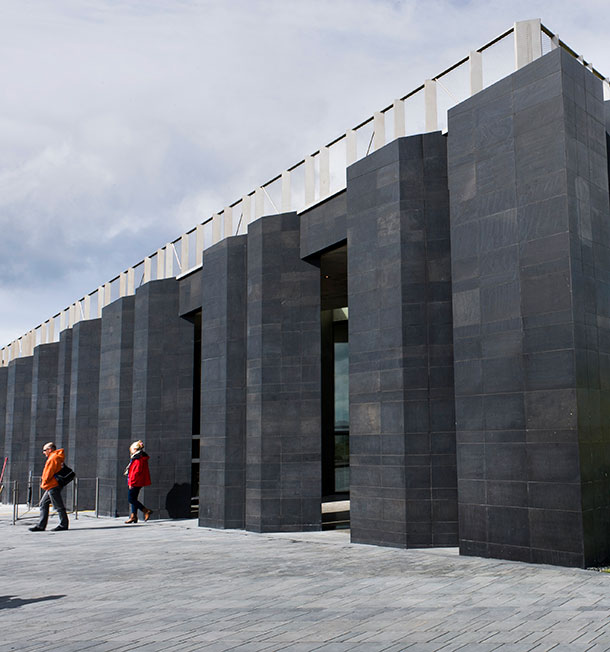 Unsurprisingly, protecting our unique and astonishing landscape is at the heart of the Giant's Causeway Visitor Centre. But its support for responsible and sustainable travel goes even deeper than that – quite literally! It's not something you'd often hear, but the centre itself is heated and cooled by underground pipelines using ground source heat.
This award-winning structure also uses water collected from the rooftop for internal plumbing, and although the famous basalt columns date back the Paleogene Period, there are no fossil fuels used at all in the Visitor Centre. The Visitor Centre and the Causeway share another cool feature, they were made from the same lava flow. So you know this centre is built to last!
Foraging for the future
If you've had the pleasure of dining out on a locally sourced, seasonal menu, then you know there's something magic in the produce that grows in Northern Ireland. These fantastic foraging experiences go one step further, connecting you to the land we've pledged to protect.
HartyCulture, based in County Armagh, takes its responsibilities to the local environment very seriously. It is a family run business with a wide range of horticultural services, which most recently includes year-round Foraging and Nature Tours. Drawing upon years of experience and community involvement, HartyCulture tours help visitors and locals alike to cultivate a deeper understanding of ecology, our effects on the environment, and an appreciation for the natural beauty around us.
All our foraging experience providers follow the 3 golden rules of foraging to help preserve the land. They'll pick a third, leave a third for the bees, birds, and beasties, and a third for the plant to propagate. They'll only ever take a third of what they find. Good to know if you fancy a bit of foraging yourself!
And if you do, Feasting On Weeds, based in Belfast, are running fantastic foraging tours over the summer at Lagan Meadows. Join passionate local forager, Clare McQuillan, for an evening of foraging and feasting at one of Belfast's best parks, where you can learn about the plants, how to ID them, and of course, taste the fruits of your labour along the way too.
Bushcraft and Badger Spotting
Take a trip to the Finnebrogue Woods School of Bushcraft and you'll meet master Bushman Rob. Rob's passion for protecting and respecting his natural surroundings is clear in everything he does which the local badgers who share the woods are sure to appreciate. You can join Rob for a day or camp overnight, as he guides you through a foraging experience as well as how to make and cook your dinner over a campfire.
And speaking of locally sourced meals, Finnebrogue Woods is also home to the Fodder Café & Shop. The café keeps its menu small to guarantee they only serve the best quality, tastiest dishes – which in turn helps reduce waste.
Your first small step to making a Giant Difference
We want to help show businesses that making changes and supporting responsible travel is the way forward. As locals, as visitors, as a part of the community – our voice matters.
If you come across some fantastic examples of businesses paving the way, share what you see using #MakeAGiantDifference