This February we are celebrating all things Love. Celebrate with us! We have interviewed five amazing couples who own and run tourism businesses in Northern Ireland. Take a read through their heart-warming stories and how their businesses came to life…
Chris and Divina- Wine & Brine
Moira, County Down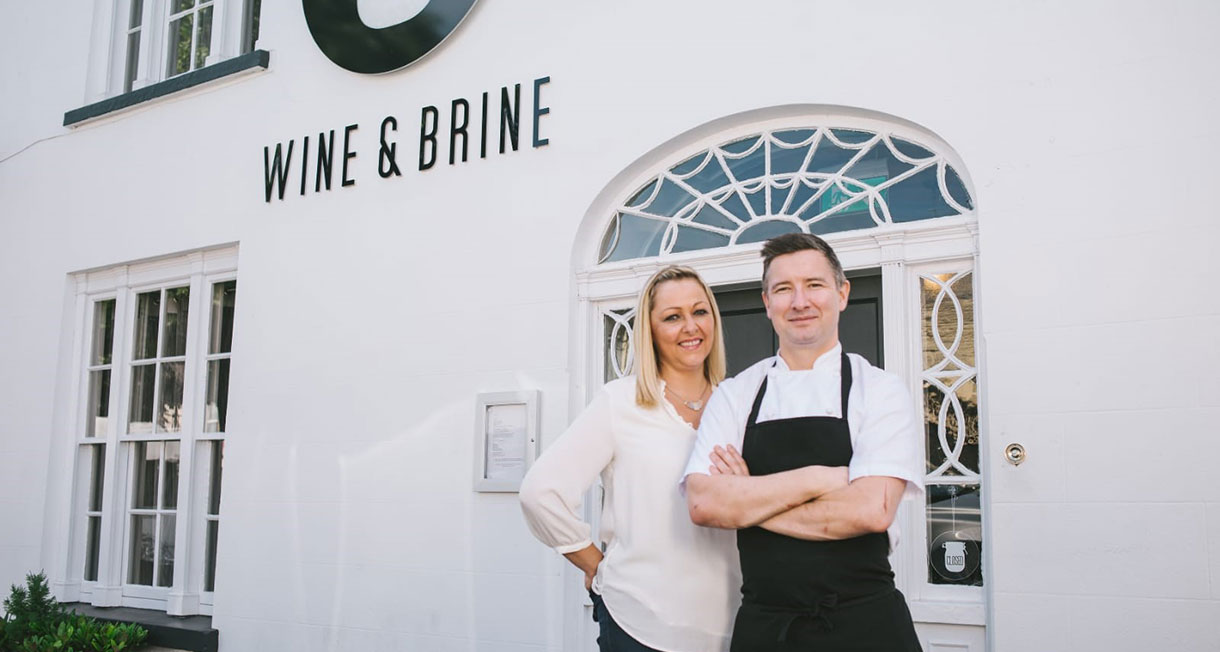 "It's hard to believe that it's 29 years since Chris and I met.
I was studying languages at the University of Ulster in Coleraine and Chris was working in the Ramore Restaurant in Portrush.
Since then, we moved to London and ten years later we got married and later had our twin girls, Maddie and Emily. It had been our intention to just stay in London for six months to a year, but we ended up being there for 20 years in total.
But it was always the plan to return home to Northern Ireland with the girls and to achieve some quality work/life balance. With the year we have all just had, we are spending more time than ever with each other, but we love working together.
We opened Wine & Brine in Moira in 2015 and we have had no regrets at all – we really haven't looked back.
We have been offering a takeaway menu since the first lockdown and we are in the restaurant most days. Chris, the girls and I also worked to prepare 100 meals every weekend for the NHS workers which were delivered to a number of our local hospitals.
We knew we wanted to help out, and this was one practical thing we could do. We wanted to provide a real treat for those workers who are doing so much for us all. I'm pleased to say we have started this service again in January.
Instead of taking time together this Valentine's Day we want to ensure we did something special for our customers so they could enjoy a special Valentine's at home. We devised a special menu that has something for all the romantics out there to try and recreate that special Wine & Brine dining experience at home.
It comes with complete instructions to allow you to enjoy your meal at home and even has some delicious handmade chocolates to round off the night."
"Coming home has been a great experience for our family. Davina and I have found a good work/life balance and the girls really enjoy life in Moira.
"There is so much great produce in Northern Ireland – it is a little paradise for foodies. If anything, we don't do enough to shout about everything that we have on our doorstep, from great beef and dairy, to the wonderful seafood from our shores.
"The food scene has changed completely during the time we were in London. The interaction between the agri-food sector and restaurants as well the increase in the number of excellent artisan producers has all contributed to Northern Ireland having a great choice of brilliant places to eat."
Ronan and Jennie Sweeney- Balloo House
Killinchy, County Down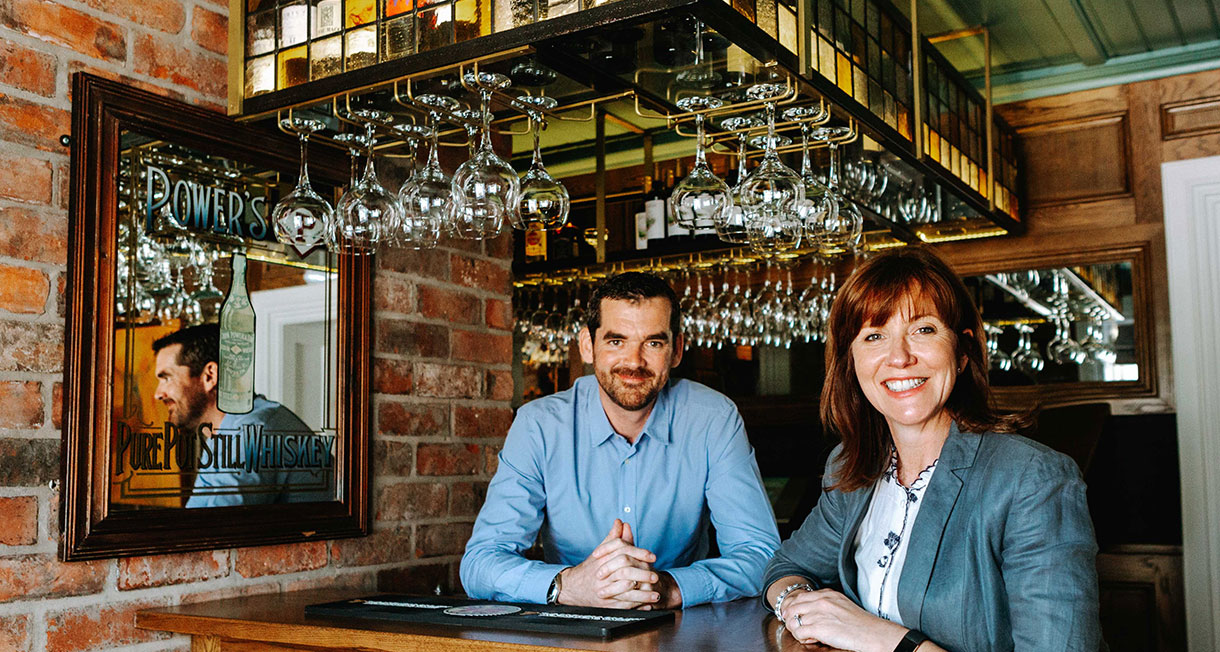 "2020 was a year like no other but we are proud of what we have achieved together.
We have had to deal with closing our pubs and restaurants, with managing the financial ramifications of that and with working out how we could pivot the businesses to offer online takeaway and introduce a chilled gastropub range.
There have been a lot of plates spinning and Jennie and I have been even more hands-on than usual, but we're a good team and we problem solve well together.
With both of us working long hours on the business, it is so important for us to consciously create some family time together."
"Thankfully we live near the shores of Strangford Lough which, for Ronan and I, is just one of the most beautiful places you could live. We are surrounded with the unspoilt beauty of the lough and it's a great place to go for long walks together and completely switch off.
From a business point-of-view this part of Country Down is a real hub for food producers who are second to none. We have direct access to the most amazing seafood, the best beef and fantastic seasonal vegetables. It's a foodie's heaven.
With four kids and a number of businesses to look after, we make a real effort to find some home and family time. Having worked in hospitality for so long, we both know the importance of finding time to relax together."
"Ronan and I met almost 20 years ago when he was managing a hospitality business in Belfast and I was working as a Brand Development Manager in the wine & spirits industry.
We got married in 2004 and a year later we had twins. We also have another son and daughter, so it's a busy house."
When we can we both love to eat out, often in Belfast. We both worked and lived there for so long and we really love the buzz of the place. Before the pandemic hit, it was great to see so many new places opening and we look forward to that buzz returning.
Valentine's Day is always special in our dining pubs, particularly in Balloo and Overwood, but this year it will be different and we will sorely miss our diners. Our talented chefs have been busy creating Valentine's specials.
Our customers have always been so supportive and are the heart and soul of our business, so we are delighted to be able offer them a taste of restaurant dining for a special Valentine's at home."
Steve and Joyce Brownless- Blackwell House
Scarva, County Armagh: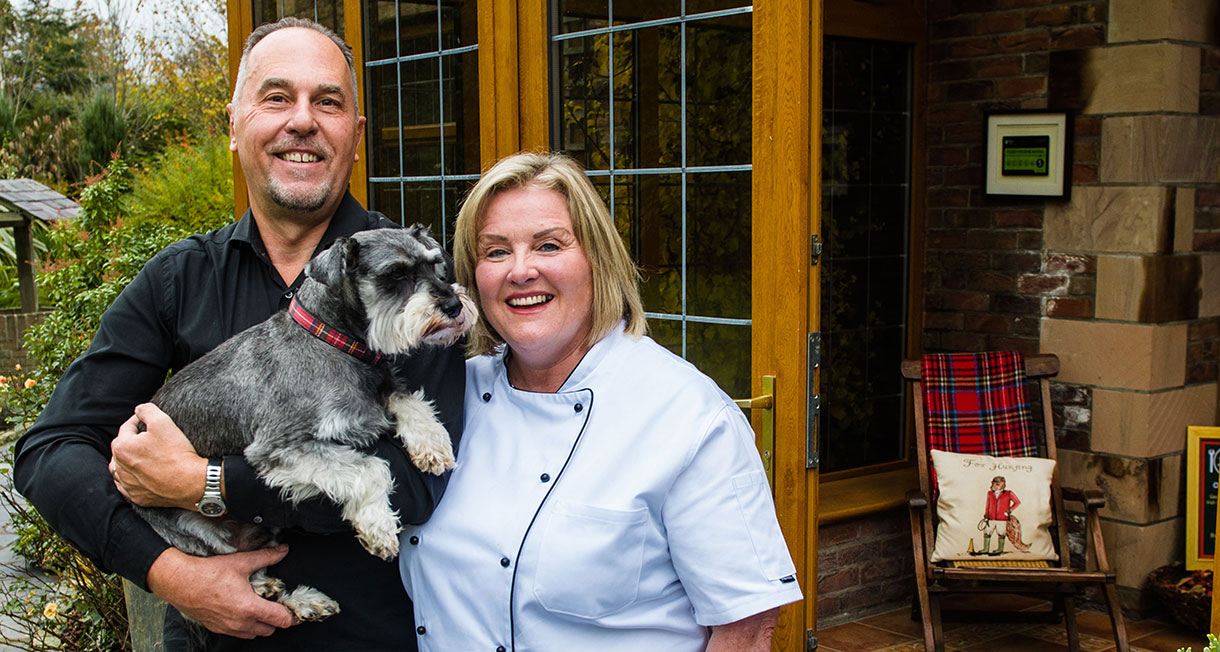 "Oh la la."
This was the reaction of legendary French chef, Raymond Blanc when Steve and I told him we were planning to open a five-star guest house at Scarva, County Armagh.
We'd been at a large dinner through Steve's work and I found myself sitting next to Raymond. During the conversation I revealed that Steve and I were planning to follow a dream of opening a guest house.
By the end of the evening, Raymond had very kindly agreed to send the Director of the Raymond Blanc Cookery School, Mark Peregrine to Scarva to spend a week with us and share his knowledge of working in a professional kitchen and the importance of cooking from the heart. Needless to say, we were thrilled.
We opened in 2014 and even with the long hours and lack of weekends, we have loved every minute of it. We had the actor Jerome Flynn stay with us during filming for Game of Thrones and he ended up checking in some guests and showing them to their rooms – the guests couldn't quite believe it.
A lot of our guests come back time and again. We pride ourselves on the attention to detail throughout the B&B and the warmth of our welcome. The warmth comes naturally, I am my mother and my grandmother before her in that sense. They were both great cooks who took great pride in feeding anyone who came through the door and I find I am no different.
Steve and I are best friends which makes working together easy, but we make sure we take breaks for ourselves a couple of times per year – we both feel this is very important."
"The business has made us look at life in a different way. Our time off usually comes at the start of the week and we love visiting some of the great places to eat nearby such as The Vault in Banbridge, The Pot Belly in Gilford and Sintons at the Bridge in Scarva.
It'll be strange not having guests this Valentine's Day, but we will enjoy the day together. I will cook a meal for Joyce and as the cooking takes place, we will both be in the kitchen chatting together and enjoying a glass of wine.
We would certainly recommend this for couples this year. The cooking process is as important as sitting down together to eat, it's a great opportunity to simply enjoy each other's company. Our only rule is, whoever cooks, the other person washes up."
Eugene and Gerardine Kielt- Laurel Villa
Magherafelt, County Londonderry: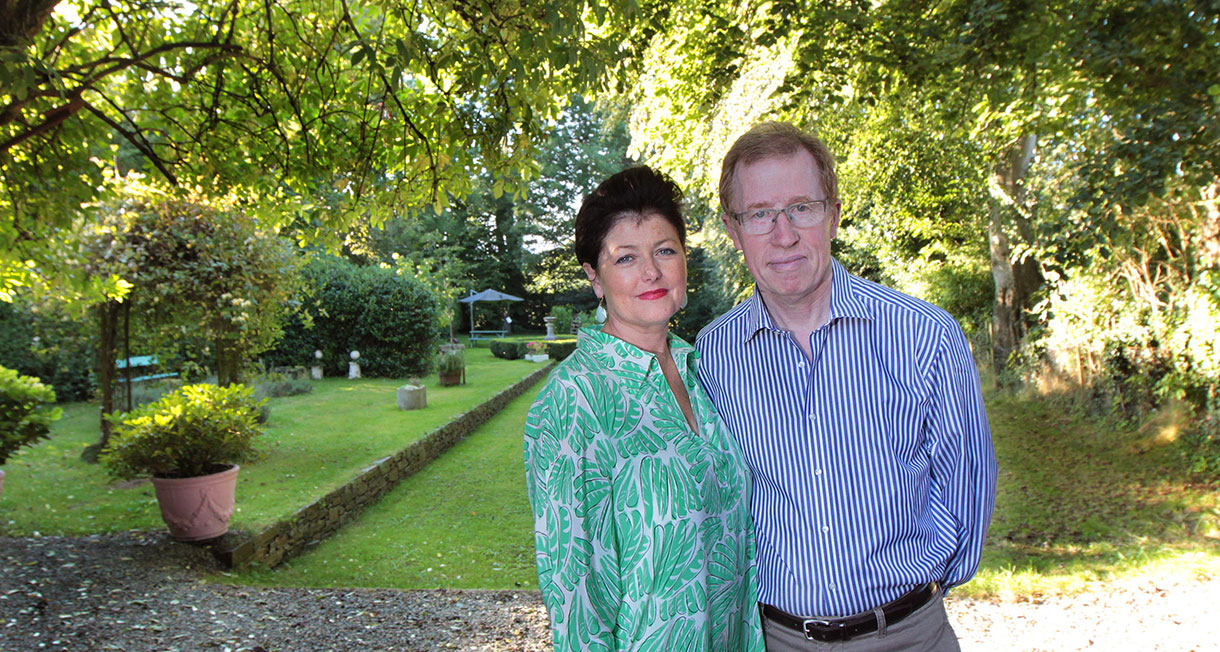 "Eugene and I met in 1982 after we had been invited to a friend's 21st birthday party in the Cranfield Inn on the shores of Lough Neagh.
We were married in 1988 and life was very different back then. I was working in administration at Belfast City Hospital and helping Eugene in the guesthouse as well.
But things started to get busier and we renovated our Victorian building 23 years ago, restoring many of the original features in the process. At that time, we took the decision that I would commit to the business full time. After undergoing a cookery course at Ballymaloe Cooking School I began working full-time in the guesthouse.
As a couple Eugene and I complement each other very well and we also complement each other perfectly from a business perspective.
Working together means it can be hard to switch off but when we do get time off, we love to go to Belfast. A stay at the Merchant is a real treat but we also love Ravenhill House.
We both enjoy lunch at Avoca and for evening, Deanes EIPIC. Locally there are a lot of great places to eat such as Church Street Restaurant and District 45 but if we're going out for a drink with guests or friends it's The Flax, Bryson's, the Terrace or Mary's.
"Gerardine offers Afternoon Teas while, as a Blue Badge Tour Guide, I offer tours, especially of the area around Seamus Heaney's home ground and help people seeking to track down their ancestors. We come together as a good team.
Our guests enjoy that warm homely atmosphere we provide and I believe it is a big part of why so many keep coming back."
Gerardine is busy this week providing Afternoon Teas for Valentine's Day but we are both looking forward to enjoying some time together this Valentine's Day. It will be a lot quieter than usual but it gives us some time to reflect on the business and we are looking forward to a time when we can welcome our guests back once again.
Seamus Heaney was a literary giant and I believe he embodies the giant spirit of Northern Ireland. When it's safe to do so we will be here to share his story with fans of his work from the welcoming atmosphere of Laurel Villa."
Nicholas and Colleen Lowry- Blessingbourne Country Estate
Fivemiletown, County Tyrone: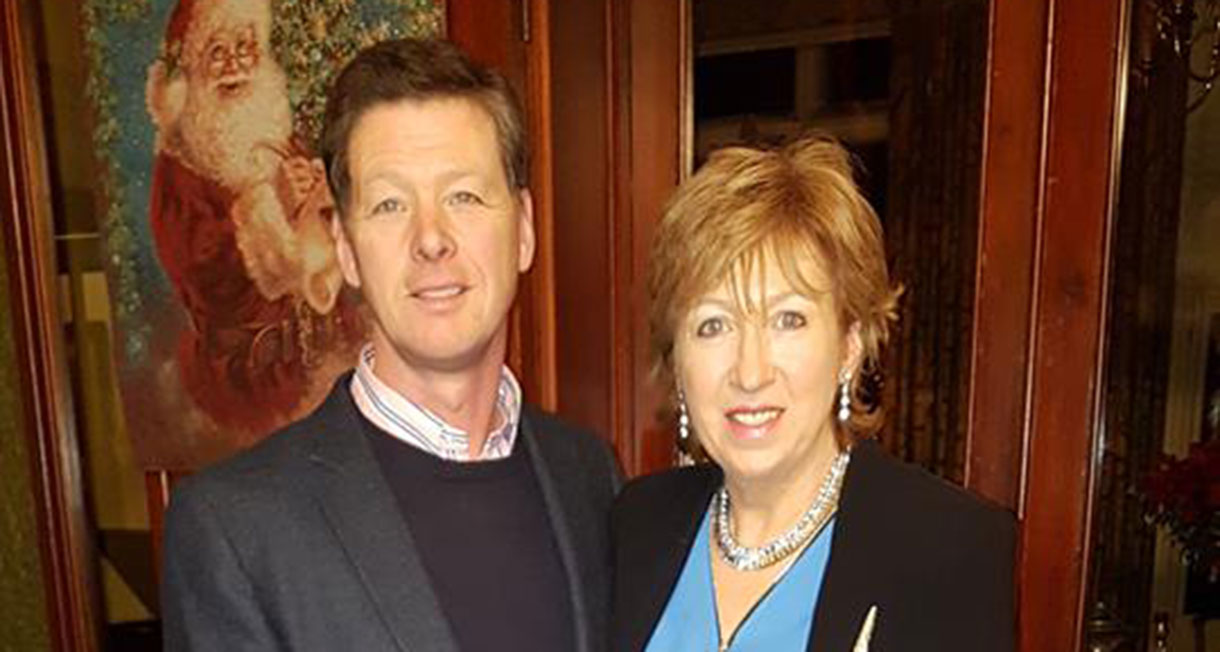 "When you know, you know.
Nicholas and I met almost 27 years ago. We were introduced by a match-making friend and were engaged and married within the year.
Back then Nicholas was farming and I was commuting to London for work in the textiles industry. When I was eight weeks pregnant with my second son I was made redundant. It turned out to be the best thing that ever happened to me.
I started a new job in economic development with South Tyrone Borough Council and really loved it. I stayed for four years but then took a career break to really concentrate on tourism at Blessingbourne and Nicholas stepped away from his dairy herd.
Our first project was transforming the Gatelodge into a five-star apartment and since then we have become 'project junkies'. The tourism offering on the estate has grown organically and we are delighted.
Working together can be very demanding but we both take the view that the customer comes first and we are both very giving of our time.
Blessingbourne Estate may look very grand, but we are not 'stuffy' in the slightest and our guests always receive a warm Northern Irish welcome.
Nicholas and I love working together. When you marry someone it is because you love their personality, so it's not a problem for either of us to be spending so much time together."
"Switching off is important and while Colleen adores her two horses and painting I enjoy playing golf and photography. We both find that it is important to carve out time for ourselves as well as time to be together.
When it comes to spending time together, we both love taking our small speedboat out on Lough Erne. It is pure escapism and during the first lockdown it felt so safe to be out on the water and enjoying the very special surroundings of the Fermanagh Lakelands.
This Valentine's Day will be different, but it can be special too. Our culinary skills have all improved as a result of the lockdowns so why not make a special meal at home with some great wine. And for those not so good in the kitchen, there are so many restaurants offering great meals to be enjoyed at home. It's the people who make Valentine's Day special."

It is lovely to hear stories from these amazing couples within our Tourism Industry. They make us very proud. Please continue to support these (and other) tourism businesses buy buying vouchers, takeaway meals and following their social media accounts.
Why not share the love and submit a review of a previous experience you had in Northern Ireland, here?