In recent years, Northern Ireland's capital city has become a culinary capital to rival anywhere on the island of Ireland. An array of new restaurants, bars and cool cafés have opened and Belfast is bursting with home produced food, great local tastes and international flavours. Twenty-four hours is not enough but for those who want to give it a try, here's how you can eat and drink your way through Belfast in a day.
Start as you mean to go on – the perfect breakfast place
It's important to get off to the perfect start and for many that means a good coffee and a sweet swirly cinnamon bun in Established Coffee on Hill Street in the Cathedral Quarter. This spot also does really great breakfast and brunches and is something of a go-to for the poached eggs and avocado brigade. The staff have a lovely demeanour that's perfect first thing in the morning and if you can grab one of the window seats you can relax and watch the world go by.
Join a theatrical food tour of Belfast
Don't hang around too long though, as you'll want to make the 10.30am start of the Belfast Bred Walking (and eating) Tour with theatre company Kabosh. We're not quite sure if there are other tours similar to this in other cities but there can't be too many led by a ghost chef from the Titanic. Even though he has been frozen in a block of ice for well over one hundred years, Barney will bring you through the Cathedral Quarter to sample some of the culinary delights and home grown produce of the city and countryside just outside Belfast.
After stopping for a Belfast Bap in Sawers, you'll move on for some early morning porter and cider in The John Hewitt. From there it's time for breakfast with a difference at one of Belfast's oldest pubs, McHugh's, where you'll get the chance to finish cooking the finest seared beef on a hot stone at your table. Your final stop is the fabulous St George's Market.
St George's Market – Belfast's food and drink hub
The market is a red brick wonder and hosts over three-hundred food stalls. Many argue that it was a key component of the city's recent culinary boom. If you are not planning on touring in the morning, it is a great place to come for breakfast or brunch. The atmosphere is second to none. Your best bet is to get here early and watch the atmosphere build throughout the day. By the end of your two-hour tour with Barney, you could be quite full but there is still plenty for the eyes to feast on, and sure you can always buy for later on.
You'll need to walk some of that food off and there is plenty to see and do in the city centre between meals. Give it an hour or two though and you're already up to lunch time.
That mid-afternoon slump? Sorted and sated
By now, your stomach knows that you're on holiday and come mid or late afternoon, it will be sending out the signals that it is indeed time to eat again. Give in, tomorrow is another day and you'll be walking the Causeway Coastal Route soon enough.
Speaking of the sea, why not take the afternoon to dip into the Belfast Oyster Experience with Aoife and Lee and discover the joys of combining Guinness with this tasty delicacy. If oysters don't float your boat then maybe the Titanic Afternoon Tea at Titanic Belfast is the brew for you. Step back in time to a period of luxury and elegance in the opulent Titanic Suite. Chow down on finger sandwiches, scones with fresh clotted cream and a selection of mouth-watering sweet treats. This is an excellent option if you're bringing smaller passengers on board by the way.
Before you go for dinner, you'll need a quick aperitif, just to open up your happy tummy a little. The Belfast Artisan Still takes pure Irish water, the finest local botanicals and handcrafts them into a top-class Belfast gin. Find out more about the process and sample the flavour of their produce at their city distillery.
A dizzying choice for dinnertime
And now for dinner. In recent years, the Ormeau neighbourhood just outside the city centre has established itself as the up and coming part of town. There have been a glut of great new restaurants opening up and one of the leading lights is undoubtedly the Shed Bistro. Run by husband and wife team, Jonny and Christina Taylor, this restaurant has recently won several prestigious awards for its offering. And what a unique offering it is. The whole kitchen is on show so that while you wait you salivate. Hear, see and smell your dinner sizzle while you get going on their delicious selection of snacks and sip from their choice of wines.
Closer to the city centre, Howard Street is your classic basil green and dark wood Parisian style bistro. If the Skeaghanore duck breast with chestnut fritter, roast salsify, crispy calvo nero and cranberry puree or the monkfish and prawn curry doesn't do it for you, then we don't know what will. This is another top-class eating experience and a fine way to finish off your day in Belfast...
Night cap in, where else, the Crown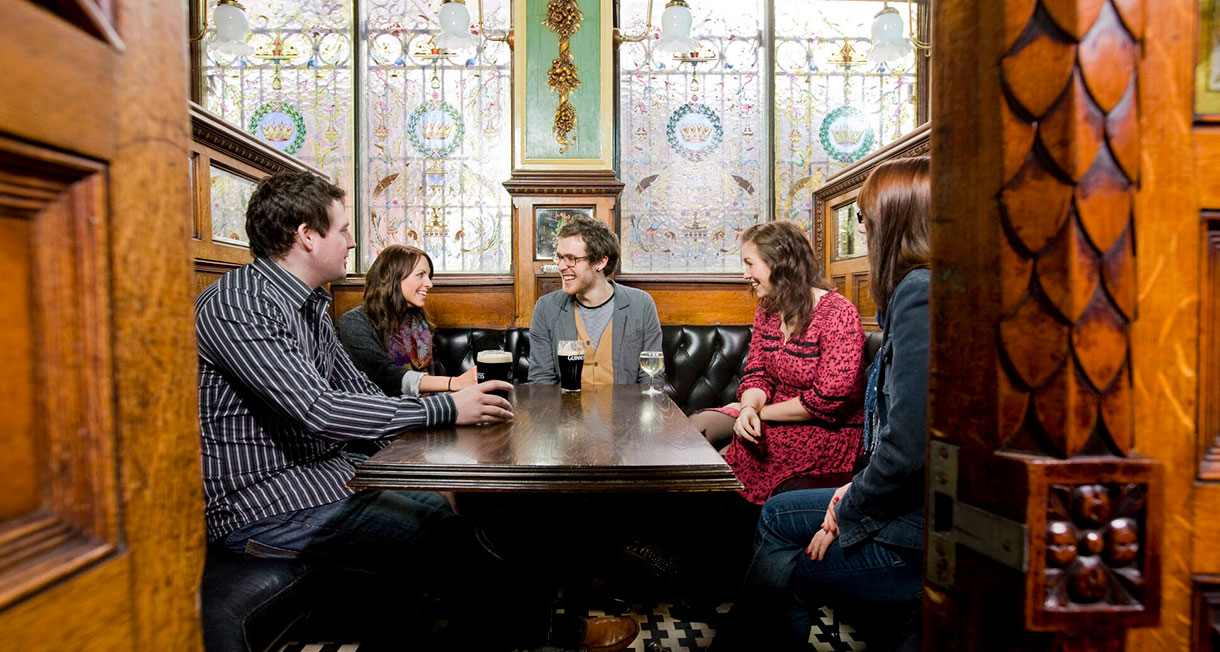 Then again, maybe not. There still might be time for one more wee drink and we're heading to the famous Crown Liquor Saloon in the centre of town for a night cap. This opulent but relaxed old gin palace has been open to the people of Belfast since the 1820's and if you manage to get into one of their nine private snugs, then it's a great way to finish off the day and chat about all that food you've eaten.