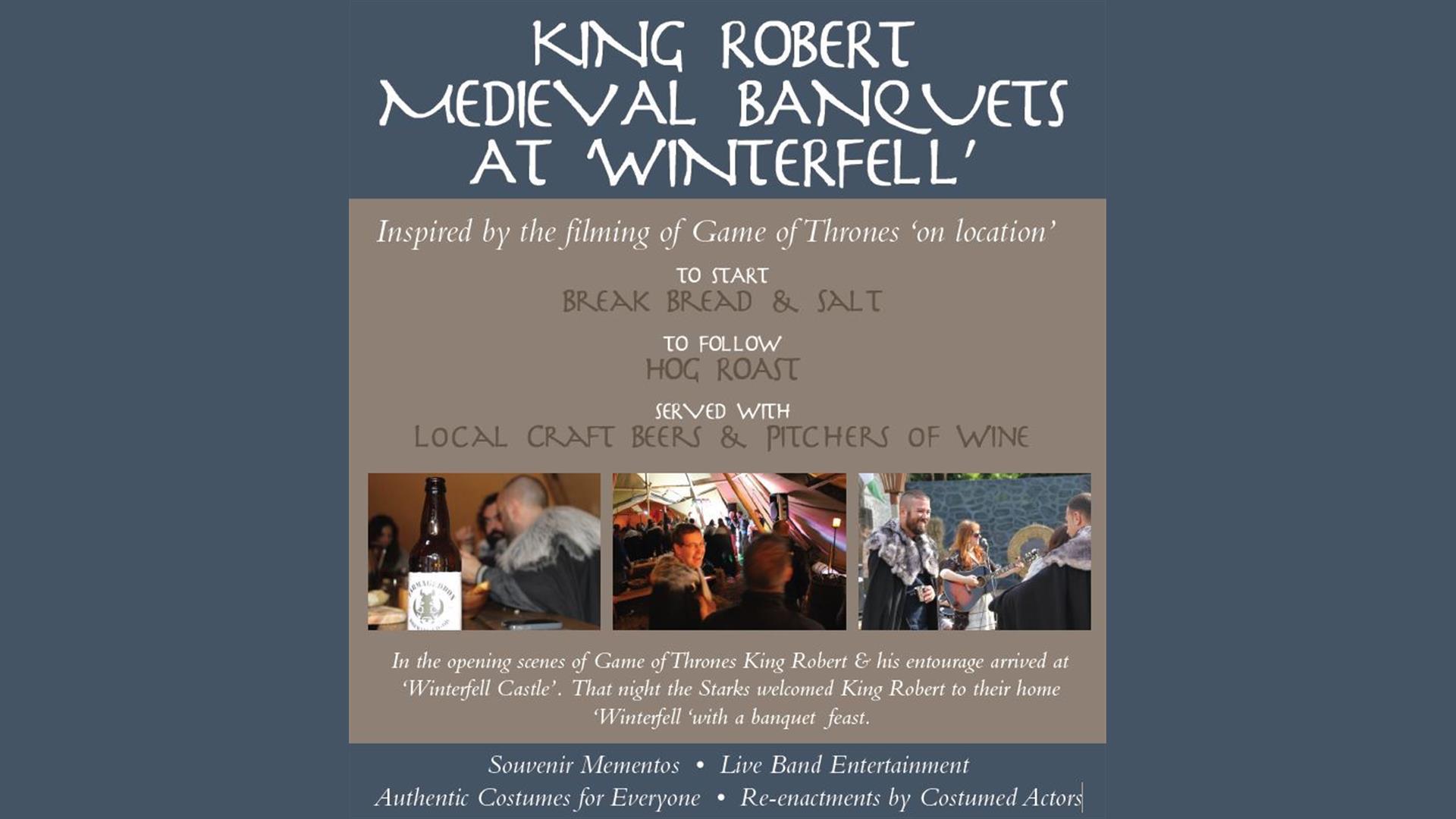 About
Castle Ward Estate, located just 40 minutes from Belfast, was used extensively for the filming of George R.R. Martin's epic adaption of his Game of Thrones® novels.

In the opening scenes of Game of Thrones®, King Robert and his entourage visited the Stark family home – Winterfell Castle. That night the Starks laid-on a welcoming feast at Winterfell.

On arrival at Winterfell, guests will be greeted by the Maester at the castle's north gate then escorted through to the 'Armory & Forge' to don their chosen costume, before being shown to their banqueting table by the 'ladies of Winterfell' - with dimly lit church candles on the far-reaching tables; fur-lined bench seating; open fire pits; traditional music; and everyone dressed in costume - this is sure to be the most memorable of dining experiences.

Break bread and salt; enjoy a delicious hog roast and Winterfell fare; wash it all down with pitchers of fine deadly wine and exclusive 'Craft Beer' from Winterfell Castle's brewery.

A truly unique and authentic medieval banquet experience for groups, just 40 minutes drive from Belfast in Northern Ireland (2 hours from Dublin).

Please note that this experience is suitable for groups only.

For more info visit http://www.gameofthrones-winterfelltours.com/medievalbanquetireland

+++++++++++

You might also like:

Game of Thrones® Archery Experience at Winterfell http://www.gameofthrones-winterfelltours.com/archerysettour
Game of Thrones® Boat Tour http://www.gameofthrones-winterfelltours.com/locationsboattour
Game of Thrones® Private Tour http://www.gameofthrones-winterfelltours.com/tournorthernireland

This activity is independently operated by Clearsky Adventure Centre. It is not sponsored, endorsed, or affiliated with HBO or anyone associated with 'Game of Thrones®'.
Book Tickets