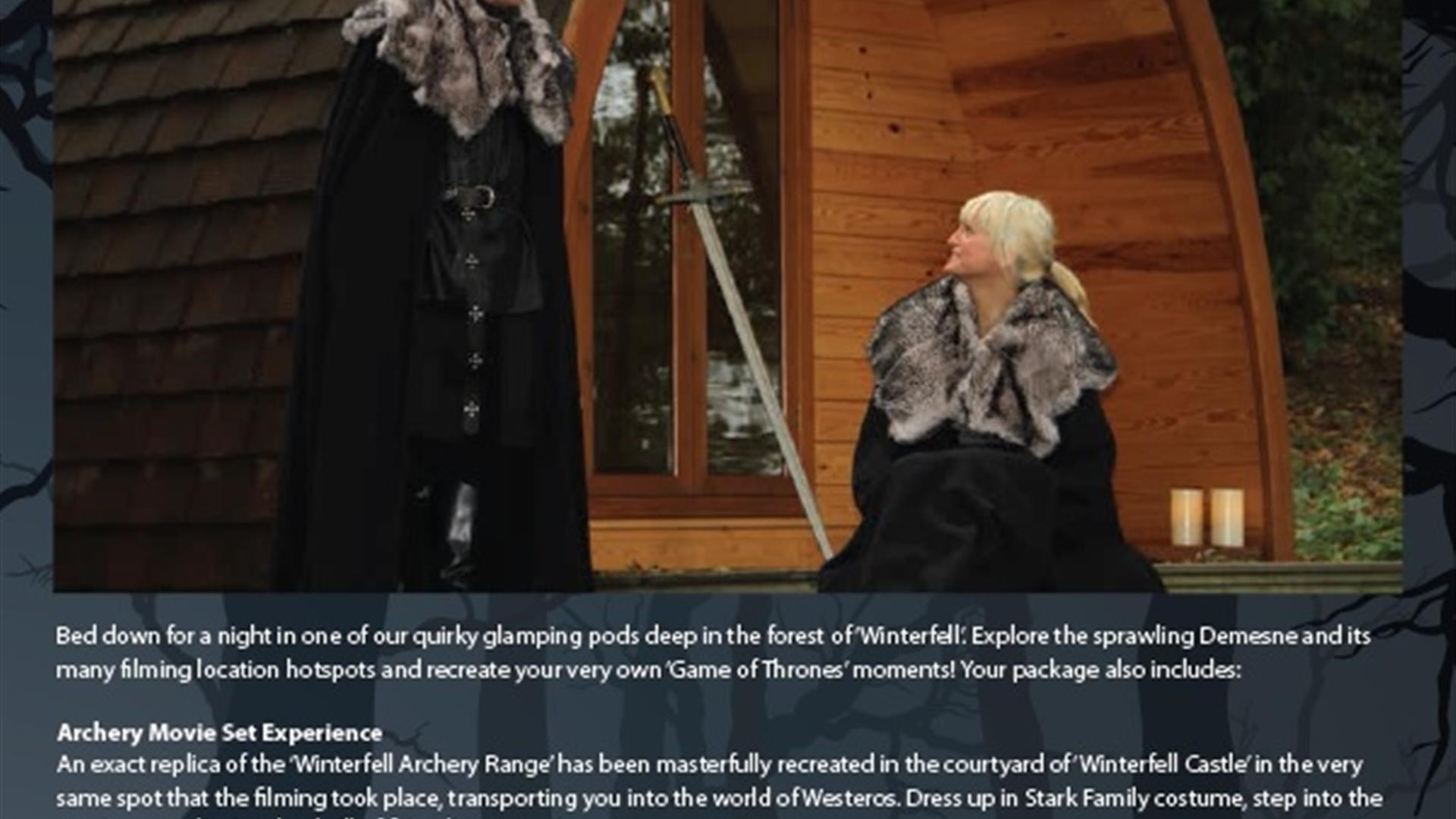 About
Castle Ward Estate, located just 40 minutes from Belfast, was used extensively for the filming of George R.R. Martin's epic adaption of his Game of Thrones® novels.

Bed down for a night in one of our quirky glamping pods deep in the forest of 'Winterfell'. Explore the sprawling demesne and its many filming location hotspots and recreate your very own Game of Thrones® moments!

Your Game of Thrones glamping package also includes:

ARCHERY RANGE FILMING SET EXPERIENCE

A replica of the 'Winterfell Archery Range' filming set has been masterfully recreated in the courtyard of Castle Ward Estate in the very same spot that the filming took place, transporting you into the world of Westeros. Dress up in replica Stark Family costume, step into the filming set and enjoy the thrill of firing live arrows!

FILMING LOCATIONS CYCLE TOUR

As well as Winterfell Castle there are 10 other Game of Thrones® filming location hotspots on the demesne and there is no better way to explore them than by bike. You also get a 'Stark Sack' to ensure you have great fun out there in the wilds of Westeros, containing:

• 'Medieval Scroll' Game of Thrones® Filming Locations map (you can keep this as a memento!) – plus some supporting images and text for each filming location
• Medieval Cloak costumes
• Game of Thrones Stark Family live action role play swords

For more info visit http://www.gameofthrones-winterfelltours.com/glampingnorthernireland

One night mini break is £199 per couple (2 people).

++++++++++

You might also like:

Game of Thrones® Archery Experience at Winterfell http://www.gameofthrones-winterfelltours.com/archerysettour
Game of Thrones® Tour – Filming Locations Cycle Trails http://www.gameofthrones-winterfelltours.com/locationscycletour

This activity is independently operated by Clearsky Adventure Centre. It is not sponsored, endorsed, or affiliated with HBO or anyone associated with 'Game of Thrones®'.
Book Tickets