Industry partners across Northern Ireland are already back to business following extensive engagement from Tourism Northern Ireland implementing training and development opportunities to ensure a safe, seamless, and inspiring destination experience for clients visiting the destination.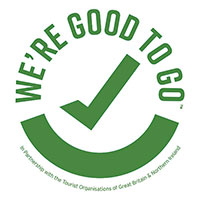 Located within the UK Common Travel area, it is the most connected destination in the UK in terms of flight access with over 18 direct flight routes from other UK airports. Clients from our international destinations can benefit from extensive flight access routes into Dublin Airport, a mere 90-minute drive through the lush, green countryside from Belfast.
Hotels, Venues and Activity Providers have all engaged and completed sector specific trainings for reopening post pandemic. Most tourism and hospitality businesses have received the UK 'Good to Go' stamp of approval ensuring client health and safety is our first priority as a destination.
Our industry has also achieved PCMA's Digital Event Strategist (DES) Certification and SITE Global's Certified Incentive Specialist (CIS) designation too. We are committed to delivering an outstanding destination experience for clients visiting Northern Ireland and the feedback consistently shows us that the clients are delighted with the range of experiences on offer.
Northern Ireland is one of the most accessible destinations across the UK and Ireland offering a huge variety of experiences. The benefit for planners in planning programs in Northern Ireland is the proximity of major venues and attractions to hotels, resulting in higher client satisfaction. Most offsite dinners involve transfers of less than ten minutes providing a better attendee experience whilst being more environmentally friendly. Sustainability is a key focus of Northern Ireland as a destination, and we encourage planners to include our protected local food produce in menus too which are Comber Potatoes, Lough Neagh Eels and Armagh Apples.
Need some inspiration for your next program to the UK & Ireland? We have compiled an easy reference destination guide highlighting some of the experiences on offer in Northern Ireland and would welcome the opportunity to provide more specific, tailored experiences for your attendees and clients.
If you require assistance or support in planning an unforgettable meetings, conference or incentive programme, to a destination that delivers, contact the team at Tourism Northern Ireland.