'I have seen landscapes which, under a particular light, make me feel that at any moment a giant might raise his head over the next ridge' C S Lewis
Although at present we cannot travel far, there is so much beauty on our doorstep to help keep our step count intact. Below are a few lesser known local walks in each county around Northern Ireland, with fresh air and stunning views of famous landscapes, it's easy to see why walking in nature is proven to make you feel good!
Before you do venture out please remember to stay safe and follow government guidelines on COVID restrictions. These can be found on the NI Direct website.
A few tips to follow include:
Stay in your local area. You should not travel more than 10 miles from your home to exercise

Check your symptoms before you travel

Only travel in a car with members of your family/support bubble

Check facilities like toilets and car parks are open before you travel

Please respect and protect our outdoor spaces (while enjoying these places please remember to put any litter into the bins provided and leave no trace)

Avoid travelling at peak times

Watch out for more pedestrians and cyclists on the road

Remember to take a face covering and hand sanitiser
If you stop by a café for a takeaway coffee (and a well-earned bun) remember to look for the 'We're Good to Go' seal highlighting that businesses have adhered to the latest government health guidance and processes.
County Antrim
1. Glengormley – Carnmoney Hill
(Grid reference - J334239 82910) 3 Miles / free parking
Carnmoney Hill
Begin the walk up Carnmoney Hill from Knockenagh Avenue just past the O'Neill Road. A gentle walk through woodland and countryside, there are 3 walks that are available and signposted, all which bring you to the top of the hill with stunning views of Belfast Lough, the Mournes and the Antrim Coast.
2. Rea's Wood – Antrim
(Grid Reference: J13476 86698) 1.6 miles one way / free parking at Antrim Lough Shore Park
Rea's Wood
Situated beside Lough Neagh, on the grounds of Antrim Castle Gardens this hidden gem is a gentle walk which takes you through woodland to the National Nature Reserve. There is no public access after the point.
3. Buttermilk Bridge Riverside Path - Broughshane
Grid Reference: (D15406 06540) 1.5 miles / Houston's Mill car park
Buttermilk Bridge
Enjoy this short walk through beautiful Broughshane, also known as the 'Garden Village of Ulster.' Buttermilk Bridge is located beside the river edge, with a bird sanctuary and First World War 'dug out,' set up for viewing, as well as a children's play area. What more could you want on your daily stroll? Admire the flowers in full bloom as you walk around the award-winning floral displays throughout the village.
4. Straidkilly Nature Reserve to Glenarm - Glenarm
(Grid Reference: D302165​) / car park
Experience the International Appalachian Trail by walking on Straidkilly Reserve, which can be located midway between Glenarm and Carnlough. There are two access points to the nature reserve along the Straidkilly Road, which is signposted off the A2 Coast Road South of Carnlough or off the B97 Glenarm – Ballymena Road on the outskirts of Glenarm Village.

From the road entrance follow the waymarkers around the nature reserve through the woodland and through grassy open areas. The walk finishes with a short section on road.

Mainly a hazel woodland walk, with areas of grassy clearings full of meadow flowers, best seen in spring when woodland flower species are in bloom.
The IAT Ulster Ireland crosses Four Counties (Donegal, Derry, Antrim and Tyrone so I can provide you with more info on a walk in County Derry / Londonderry if you need it.
County Londonderry
1. Springhill, Magherafelt
(Grid Reference: H86829 82876) 1.1 miles circular / free parking
Springhill
Why not enjoy an invigorating walk around the grounds and the 17th century 'Plantation' estate of Springhill. Part of the National Trust, the grounds and car park of Springhill remain open to local walkers. Find yourself walking amongst the beautiful snowdrops, giving hope that Spring is near!
2. Carntogher, Maghera
(Grid Reference: C81844 04503) 5.6 miles circular / parking on the roadside car park by Cotters Row, follow the signs for mountain walks and this is the start of the walk.
Carntogher
This walk is above the hills of Glenshane and has spectacular views of Lough Foyle to Errigal in Donegal. The beautiful and famous landscapes don't stop there, with picturesque and instaworthy views of the Mournes, Sperrins and Slieve Gullion.
3. Bay Road Park - Derry City
(Grid Reference: C448190) car park / woodland
Bay Road Park
Located in the city, Bay Road Park is a large open space based on the banks of the River Foyle. Not only does it provide impressive scenery of the Foyle bridge, lookout for the wildlife in the park, you may spot a herring, starling or bullfinch. In 2009 it was declared a Local Nature Reserve for its biodiversity, access, community involvement and educational value.

4. Ballykelly Forest - Ballykelly
(Grid Reference: C614219) 2.6 miles / car park
Ballykelly Forest
Why not enjoy a walk around the oldest state forest in NI! There are various loops and short routes available around the forest!
County Armagh
1. The Argory, Moy
(Grid Reference: H87170 58257) 2 miles circular / parking on the grounds
The Argory
Part of the National Trust the Argory is an Irish gentry house and wooded riverside estate. Follow the River Blackwater around the beautiful estate. Keep an eye out for river favourites such as Kingfishers and Herons.
2. Darkley Forest, Darkley
(Grid Reference: SA954919) 1.9 miles circular / parking
Darkley Forest
Darkley Forest contains two walking routes through an enchanting woodland forest and the historic Darkley Village. Follow the Mountain Lodge Trail overlooking the River Callan, however, don't forget to stop at the various viewpoints and enjoy the bed of bluebells in spring.
County Fermanagh
1. Ely Lodge, Carrickreagh
(Grid Reference: H180513) 1.5 miles circular / parking at Ely Lodge Forest car park
Ely Lodge Forest
Follow the black route which takes you up through a steep climb to the hillside forest. Carrickreagh Viewpoint provides panoramic views of Lough Erne. Rest your legs in the wooden hut, providing shelter while observing the beauty of your surroundings. If you get lucky with the weather, you can see as far as the Bluestack Mountains in Co. Donegal to the north and out to Sligo Bay and the Atlantic Ocean in the west.
County Tyrone
1. Coalisland Canal Walk, Coalisland
(Grid Reference: H84305 66474) 4.2 miles / parking (Cornmill car park)
Coalisland Canal Walk
The walk begins in Coalisland town and the towpath stretches for 4.2 miles. The Canal itself opened in 1789 and was used to bring coal from Coalisland to Dublin via the River Blackwater, Lough Neagh and Newry Canal. Coalisland town acted as an inland port, distributing grain for the mills and provisions for the surrounding towns.
A gorgeous walk, you will cross over Macks Bridge and continue along the canal until you reach The Point, where the canal meets River Blackwater. There are 7 locks in total to be seen!
2. Washing Bay Walkway and Running Trail, Dungannon
1.8 miles circular trail / free parking
Washing Bay Walkway
This is a new walkway, opened in 2019 which boasts a pleasant shoreline walkway through wetlands leading to stunning views of Lough Neagh. Be sure to look out for some of the wildlife, you may spot an otter!
3. Crocknagrally Forest, Fivemiletown
(Grid Reference: H48273 42563) 4.2 miles circular / Crocknagrally Forest car park
Crocknagrally Forest
Get back to nature by walking through Crocknagrally Forest which provides habitat for the rare red squirrels and if you are lucky you may spot a pine martin on your travels too!
4. Vinegar Hill Loop - Gortin
Grid Reference: (H55128 90421) 7 miles / Barnes Gap car park
Vinegar Hill Loop
This 7-mile walk showcases the gorgeous rural landscape of the Gorticashel Glen. The walk begins at Barnes Gap, which was formed by the shifting and scraping of the glaciers during the melting of the last Ice Age. Embrace the country air and outstanding views across the Sperrins, rolling hills and lush green valleys, this is a walk not to be missed!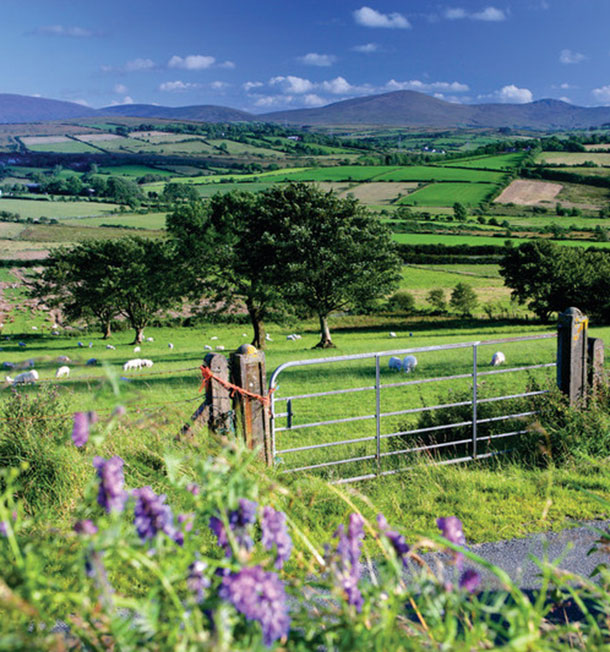 5. Gortin Glen Lake - Gortin
(Grid Reference: H499842) 0.6 miles / car park
This short off-road walk leads around Gortin Lakes, is also part of the International Appalachian Trail Ulster Ireland has superb views of the Sperrins landscape. From the car park, the walk around the two lakes is laid out in the formation of the figure eight and so you can choose to walk in either direction.
The gravel path around the lakes undulates gently offering the tranquillity of the still, deep water on one side and the natural habitat and vegetation on the other. The path is easily followed with a number of seating benches placed so walkers can take a rest and take in the majestic views.
6. Killeter Forest Trails - Killeter
(Grid reference - H 09194 81543) 2-13 miles / Please do not park at forest entrances or venture off path / parking available locally
Killeter Forest
Killeter Forest contains 4 waymarked linear and circular walking trails. The trails follow forest roads, riverbank paths and narrow country roads that all give access to one of the largest forests in Ireland. In key areas of interest, a number of information panels have been installed that unravel the story of Killeter Forest, its habitats and notable wildlife. Sections of two of the trails- the Mullyfamore Trail and the Bannadoo Trail – form part of the International Appalachian Trail.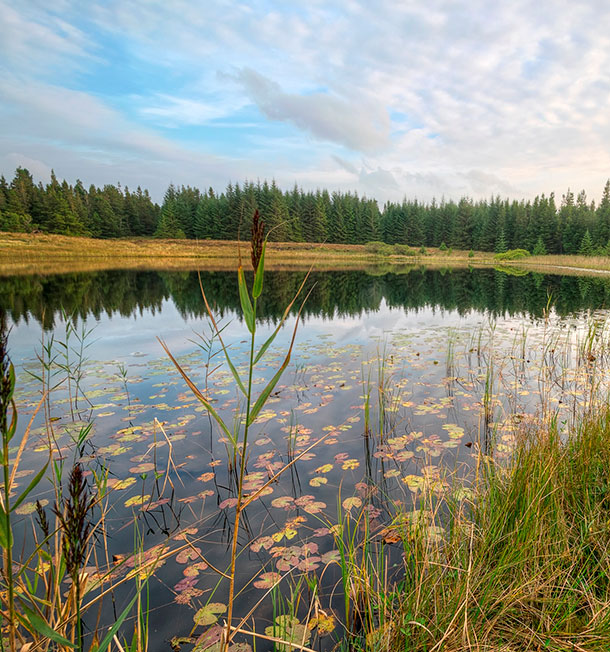 7. Strabane Canal Towpath– Ballymagorry
(Grid reference - C 36015 02542) 3 miles / car parking available
Strabane Canal Towpath
Approximately 3 miles in length this linear off road walk follows a section of the old Strabane Canal Towpath which opened in 1796 with the aim of the creating an important transport link between the town of Strabane, the River Foyle and the port at Derry-Londonderry.
Pass through the kissing gate immediately to right of the vehicle entrance gate. From here follow the trail north as it leads along the canal edge, passing two footbridges which cross the canal, before arriving at Campsie's Lock. Continue and pass through the kissing gate onto the earth track and follow this to its end at the bird hide. From here stunning views of the River Foyle and East Donegal can be enjoyed.

County Down
1. Castle Ward, Strangford
(Grid Reference: J57085 49482) 1.8 miles circular Castle Trail / parking
For a longer walk take the Castle Ward Hood Trail is 7.5 miles
Castle Ward
Enjoy the trails around the National Trust's, Castle Ward, visiting the scenic waters of Strangford Lough and Audrey's Castle taking in the views of Strangford and Portaferry. Don't forget your phone as sometimes you may encounter a seal popping up to say hello!
There's something for everyone, the shoreline trail or the woodland walk, both providing a picturesque dander.
2. Drumkeeragh Forest, Dromore
(Grid Reference: J33000 46000) 5 miles approx cirecular / free parking in Drumkeeragh Forest car park
Drumkeeragh Forest Park
Drumkeeragh Forest has a small car park for visitors located off the Drumnaquoile Road. There is an extensive forest road system which offers access for walkers to most parts of the forest.
Situated at the lower slopes of Slieve Croob. The forest park has amazing views of the surrounding countryside, Strangford Lough and Scrabo Tower is visible between the low rounded hills. There are also panoramic views of Slieve Croob on the left and the famous Antrim Hills on the right. If you catch yourself there on a clear you may be lucky to see the Sperrin Mountains.
3. Nugent's Wood - Portaferry
Grid Reference: (J59129 50867) 1.5 miles / Nugents Wood car park
The newly reopened National Trust's, Nugents Wood is a beautiful coastal and woodland path with views of Castle Ward and Strangford Lough. The 1.5 miles path runs through 13 hectares of wood. With magical creature carvings dotted along the path, its a fun walking trail for all the family! Don't forget your wellies if it's a wet day!

4. Killynether Country Park - Newtownards
Grid Reference: (J47311 71895) 1.5 miles / car park
An enjoyable and steady climb through woodlands to a viewpoint over Killynether, Strangford Lough and the Drumlin countryside. Enjoy the peaceful walk in the former estate and spot the first sign of Spring, some colourful bluebells dotted amongst the woodland.
Above are just some of the hidden gems near you, but there's many more walks in nature that are tucked away out there in your locality that you may never have heard of! Be sure to check out www.walkni.com or download the app for more info. Don't forget to share any snaps you take along the way using #MyGiantAdventure